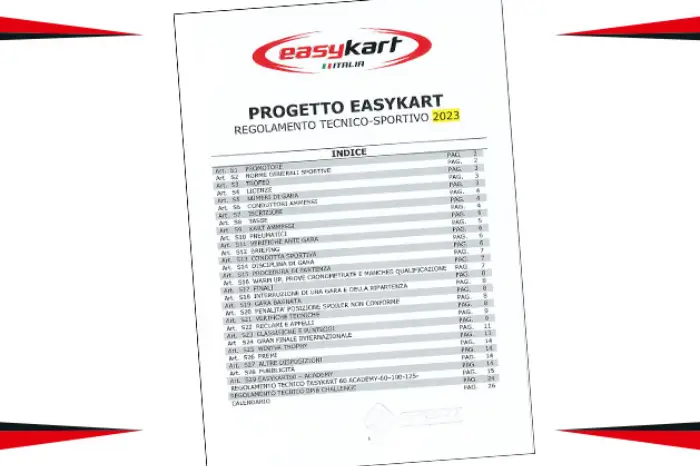 Birel ART announces that the 2023 Easykart & Easytraining regulations have been approved, in addition to the engine fiches of the season that will open with the collective tests, scheduled for March 18-19 on the "Pista Azzurra" of Jesolo.
All interested parties are advised to read the changes and new features (highlighted in yellow in the downloadable documents at the foot of the page).
Furthermore, the calendar already published last December becomes definitive, with the Easykart Trophy consisting of seven appointments and which will see the return of the Easy paddock on the Viterbo International Circuit on May 14, the confirmation of the Cremona Circuit (June 4) and the double night in Ala (July 1) and Lonato (July 22). After the excellent success of the 2022 edition thanks to the record number of participants, the International Final number XXII will take place for the second consecutive year on the Franciacorta Karting Track: the appointment is set for October 20-22.
Finally, the Easykart promoter invites all drivers who do not yet have the race number to hurry up and make a request by sending an e-mail to [email protected].
Stay connected: soon all the 2023 news, the jackpots up for grabs and much more.
See you on the track. Stay racing, stay happy… and think Easy!
DOWNLOAD:
EASYKART REGULATION | EASYTRAINING REGULATION
FICHES:
60 | 60 ACADEMY | 100 | 125 | BMB
Press Release © Easykart