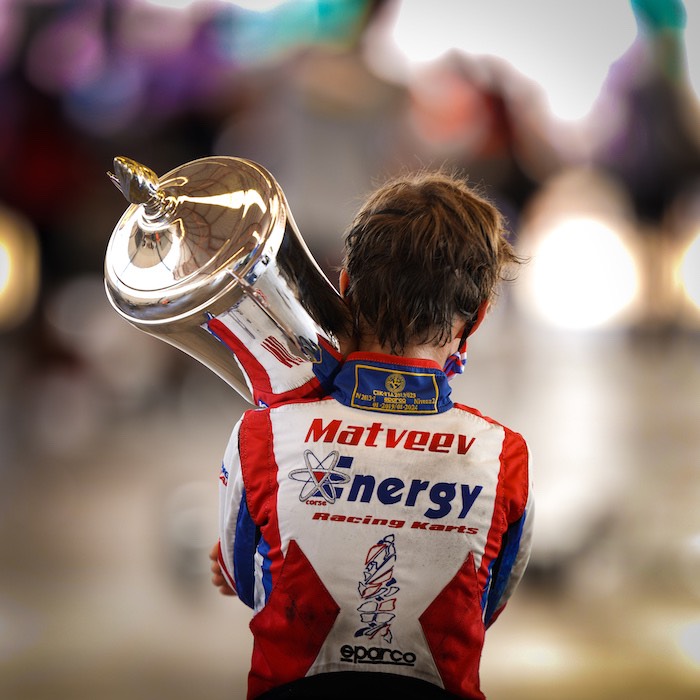 A benchmark team in the international karting paddock, Energy Corse has not failed to put its drivers on the way to the podium in recent weeks. After his title in the WSK Super Master Series, Russian Dmitry Matveev won the first edition of the Champions of the Future series in 60 Mini. And at the OK-Junior World Championship in Portimao, Japan's Schu Dozono was a revelation in the colours of the Italian team. Once again, the experience and know-how of the technical staff played a big role in these successes.
Energy Corse remains one of the most formative teams in the paddock. The team constantly pays special attention to all its drivers, to put them in the best possible position to aim for the top. Racing in the main international events, the team managed by Mick Panigada has taken up many challenges in 2020 and is preparing to do the same in 2021…
Constant results in 60 Mini
Usually a protagonist in the Rok Cup Superfinal, the Energy Corse team placed two drivers in the top five on the Franciacorta circuit. Russian Dmitry Matveev led the Final for several laps and was the fastest of the leaders, before losing some places in intense duels. He finished 5th just behind Salim Hanna Hernandez, supported by Juan-Pablo Montoya. The Colombian driver made good progress after starting in 10th position. Three other drivers from the Energy Corse team qualified for the Final: the Canadian Jensen Burnett, the Peruvian Andres Cardenas (an excellent 4th in his group after the heats) and the British driver Alfie Slater, who won one of the heats! As for the Thai driver Enzo Tarnvanichkul, he took the Singha Trophy.
In the 60 Mini category with many drivers, the Russian Dmitry Matveev had won in Zuera at the end of July, giving him the title in the Champions of the Future series organised by RGMMC.
Top 12 in the world for Schu Dozono
Schu Dozono, who was still unknown on the international scene a few months ago, has made a name for himself in Portimao in OK-Junior. The Japanese driver took advantage of the Champions of the Future series event to step up his performance, before confirming his place in the World Championship. In the Final, he made a magnificent comeback from 35th to 12th position in difficult conditions. That's a gain of 23 places for his fourth race in Juniors!
Alex Dunne joined the Energy Corse team just before the Champions of the Future series race. The Irishman immediately climbed into the top 10 in the Timed Practice and the OK Qualifying Heats. Unfortunately, he had to drop out in the Final. Dunne was still very competitive in the World Championship (twice in the top six in the heats). But once again, the Final was unlucky for him.
A month earlier in Lonato, Energy Corse was also aiming for a good result in the International Super Cup for KZ2. On the podium the previous season with the Swedish European Champion Emil Skaras, this time the Italian team placed the Dutchman Joey Splunteren and the Swede Alexander Dahlberg in the top 10 of the Qualifying Heats, in a category with 99 entries. Due to racing incidents, they were not able to take the chequered flag! But there is no doubt that Energy Corse can be counted on in the final 2020 events and, of course, in 2021 …