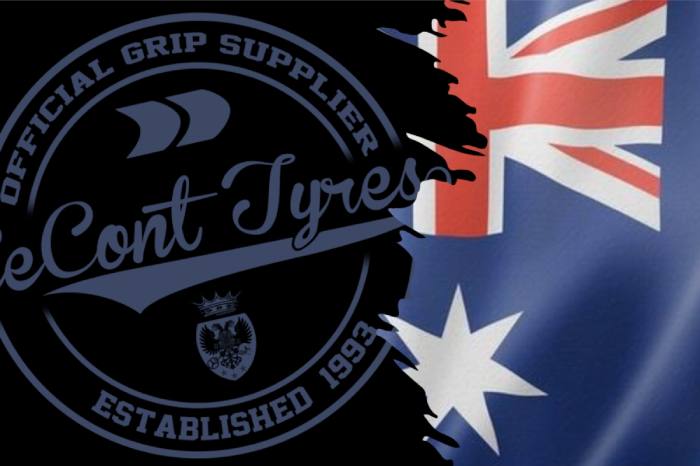 It is with great pride, satisfaction and pleasure that LeCont can today announce it has been selected by the prestigious Australian federation KA (Karting Australia) as the exclusive supplier – from January 1st, 2022, to December 31st, 2026 – of tyres for most of the official categories (KA4, KA3, TAG Restricted, Yamaha, TAG, KA2, X30, Open Class and KZ) in Australia.
LeCont would like to thank all of KA and its CEO, Kelvin O'Reilly, very warmly for their great confidence. At the same time, LeCont announces the partnership with Patrizicorse, company owned by Michael Patrizi, who will represent and distribute the LeCont brand in Australia and Oceania.
After having undertaken few years ago a progressive entry into the North American market, LeCont has now reached a further goal by landing in one of the most prestigious, professional and large world karting markets, but also one of the most distant from our bases in Italy. This is a clear sign of great recognition of the quality of our tyres, which over the years have established themselves among the best products in the karting sector. Today's entry in Australia represents a milestone in the history of LeCont and it will be our most fervent commitment to ensure that this important presence in Australia will continue over the years and decades, with total satisfaction of all parties involved, starting with drivers, teams and KA.
As our motto says… The best is yet to come!
LeCont partners with Patrizicorse
Patrizicorse is proud to announce that in alliance with Karting Australia they will be the sole distributors of Karting tyres to be used in KA competition for the KA4, KA3, TAG Restricted, Yamaha, TAG, KA2, X30, Open Class and KZ categories from January 1, 2022.
The LeCont brand is new to Australian competition. Since being established in 1993, LeCont has grown to become one of the world's leading tyre manufacturers and on multiple occasions has been the chosen tyre for the FIA World and European Karting Championships.
The LeCont LH03 "AUS" tyre is designed to suit Australian conditions and respective classes while the LeCont SVB and SVC are the current (respectively Option and Prime compound) homologated tyres by the CIK-FIA.
PATRIZICORSE – Michael Patrizi, Managing Director
"At Patrizicorse, our focus is always on providing the best possible karting products to the karting industry and kart racer and I firmly believe that we are doing this with the LeCont tyres. The LeCont tyre has been a proven performer all across the world and I look forward to seeing Australian drivers on track enjoying the great driving experience that LeCont tyres provides from 2022 and beyond," said Patrizi.
"The technology used in the manufacturing process is world leading and something that I believe the Australian driver will be very appreciative of throughout the duration of the tender."
"All my staff have gone over and above for the competitors, and we strive to make sure we supply the world's leading products. It was evident to us all from the day we first tested the LeCont tyres that this is a product that is going to keep growing our sport in Australia. I am sure the driving sensation from the LeCont product will bring thorough enjoyment to competitors at all levels. The LH03 AUS is special, its specifically made for our conditions and classes and I personally enjoyed this tyre throughout our very own evaluations."
"The higher performance tyres, SVB and SVC, are exactly what the drivers of these classes have asked for. The SVC Prime is arguably the number one KZ tyre on the market globally and the best driver will bring out the best in the tyre. The SVB is a great mix of grip and longevity making it perfect for the classes selected. One thing is for sure our tracks will now be more consistent…"
"We hope to even further streamline and improve our already excellent distribution department, adding LeCont to our vastly growing products in which we distribute to all competitors, Kart shops and engine builders. LeCont now joins Vortex Engines, Ricciardo Kart, BirelART, Leclerc Kart, KF Kart, Vrooam Lubricants, Alpinestars, Bell Helmets, NEK Seats, and Torini Engines and many more…"
Valter Cont, Chairman & CEO of LeCont srl:
"For all of us at LeCont nothing could have been nicer. Knowing that our company has been selected as the exclusive manufacturer of karting tyres of more than one class in Australia by such a prestigious federation as KA, for such a long period and for such many categories, fills us with pride and at the same time covers us with responsibility. We are so proud that the quality of our products and the seriousness of our company have also been recognised on the other side of the world from Italy, where LeCont is based… We are so proud as-well that our company is thus demonstrating that it is increasingly imposing itself as 'top kart tyre brand' outside its natural boundaries, to expand its presence on a worldwide scale. For this precise reason, to conquer a place under the sun in Australia was a declared goal, strongly dreamed of. That is why we will do our utmost to give total satisfaction to the greatest force in the sport, the drivers, as well as to KA, the teams and all the organisers and volunteers who make karting a remarkably successful discipline in Australia. We want to win your hearts with deeds, not words and we want to put smiles on your faces. For now, I just want to pass on a huge thank you to everyone of you, dear Australian friends! We are about to start a wonderful new and long adventure together".
Sergio Cont, technical director, member of the LeCont board & co-owner of LeCont srl:
"Being able to enter the Australian market and work alongside such a prestigious and historically important federation like KA is a dream which came true. To say that this makes us enthusiastic and happy is even reductive, so much so that this recognition of esteem inspires us and makes us proud. We would like to thank KA for their trust and warmly embrace them in a huge virtual hug, together with all the drivers, teams, volunteers, organizers who now represent our new family at the antipodes. We must also underline and applaud the enormous work and all the efforts made by Michael Patrizi and his company Patrizicorse -who will import and distribute LeCont tyres in Australia and carry out the track service- to make all this possible. Without their professionalism, skills, knowledge and commitment on a daily basis none of this would have been possible".
Paolo Bombara, Marketing, Export sales & Sporting activities director of LeCont srl:
"We are glad, so glad… My only personal regret is that the current restrictions implemented by authorities to fight the Covid Pandemic doesn't allow me to jump on the first plane and come right now to Australia, to thank and congratulate KA for their perfect choice and to celebrate -as it deserves- this great news with Michael Patrizi and all the staff at Patrizicorse. By the way, all of this is just postponed to the first available date, according to the future government's regulations…
To have this kind of success you need a junction of some conditions… Indeed, you must count on:
– a serious and well-known manufacturer -as LeCont is- able to provide very good products, recognized from years as top-level tyres by the most prestigious kart brands, teams and drivers of the international karting in Europe (and not only)
– a very well-managed, professional and reactive federation, attentive to global markets and products quality, as KA is
– the perfect local partner for the tyre manufacturer. A partner able to promptly import products from Europe distributing them in a very efficient manner and delivering a state-of-the art service on the races and on the Australian market, as Patrizicorse and Michael Patrizi are.
To fully exploit its potential a manufacturer needs to be perfectly supported by an extremely well established and organized importer/distributor and to feel itself fully trusted by the national federation and its clever vision of the sport.
All these conditions were reunited this time. We are lucky and we feel extremely happy.
Good on ya Aussie mates and see you soon in OZ!"
Press Release © LeCont