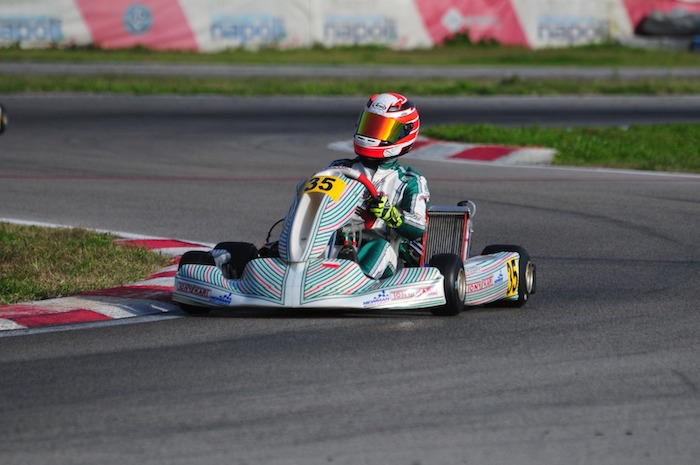 [translated with Google Translate]
Over 260 riders in the 9 categories met this weekend at the Naples international circuit for the Ayrton Senna Trophy, which this year reached the 24th edition, which ended the season of both the track and the Newman Motorsport team.
The program developed over the three days and except for Friday, characterized by heavy rain, the race conditions on Saturday 15 and Sunday 15 were practically perfect.
The team directed by Andrea Pedrini archives the season with OKJ success together with Ferdinando D'Auria who dominated the scene with pole position (1: 01.220) and three victories in as many Finals as well as scoring the fastest lap in Final 2 and Final 3, constantly improving the chronometric results coming to go under the wall of the minute.
In X30 Junior Andrej Petrovic finished the Trophy in seventh place overall strong in the eighth and ninth place in the first two finals. Mattia Bucci is a weekend of growth that, at the second race in the category, has become the protagonist of numerous comebacks. After the 28th time in qualifying, the Catignano driver finished Final 3 in eleventh place, touching the points zone.
Positive debut of Giuseppe Capuano with Cesena material that crosses the finish line of the Final in eleventh position, before receiving a penalty of 5 "for the fall of the spoiler.
Alessandro Pellegrini, in the entry-level, is close to the final stage concluding the trophy with the repechage competition.
"I want to congratulate Ferdinando because in a few races he has grown and improved considerably. It is on the right path to make the qualitative leap it deserves. He also reacted very well to the various setup changes, as shown by the chronometric results in the finals. Andrej and Mattia are also very good. They have shown they can aim very high. He only needs a little experience. Concluding the season with OKJ success here in Sarno is a good sign for the whole team that from today will get to work to better plan 2020. We want to take another step. We know we have to improve, but we have shown that we have good material at our disposal and for this reason I want to thank the Tony Kart in particular. "Team manager Andrea Pedrini comments.
Pics: Mimmo Laudiero – Circuito Internazionale Napoli