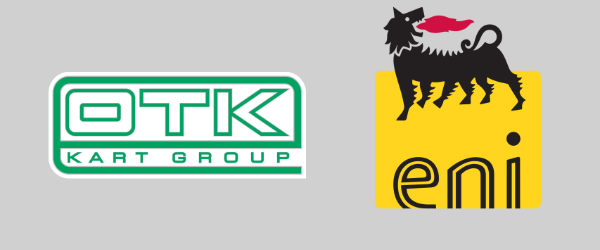 OTK Kart Group is glad to announce the start of its cooperation with ENI S.p.a. for the development and marketing of specific lubricants for 2-stroke kart engines. OTK will exclusively market the Eni Kart 2T lubricant, thus becoming the sole distributor worldwide.
ENI, always careful and present in the motorsport, is a specialized technical authority on the lubrication of racing engines and boasts an international prestige thanks to several successes in this field.
Our company started a fruitful work with Eni long ago for the development of lubricants on Vortex engines, the engine division of the OTK Group.
The Eni Kart 2T lubricant has been used throughout 2020 by our official Racing Teams, Tony Kart Racing Team, Kosmic Racing Department and Exprit Racing Team in all the international competitions they took part in, enjoying great successes, culminating with the triple win of the Tony Kart Racing Team at the FIA World Championship in the OK category.
The cooperation between OTK Kart Group and ENI S.p.a., two Italian excellences, will continue the path taken in the past and will allow both of them to optimize each other's knowledge, so as to develop increasingly performing lubricants for kart engines.
OTK will be the official supplier of Eni lubricants at the 2021 Rok Cup, the OTK single-brand championship, popular all over the world. (Rokcup.com).
Therefore, Eni Kart 2T, available through the OTK sales network, is the recommended lubricant for all engines of the Vortex range.