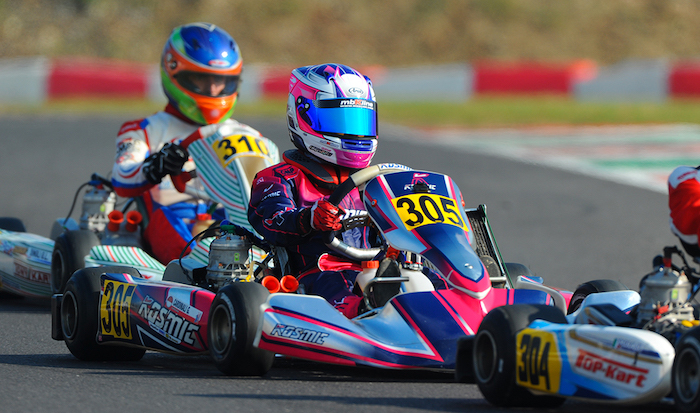 Girls able to give their opponents a lot of trouble. In this edition run on the Franciacorta Kart Track, the strongest Rokkers raced together in the Super Rok, with Gaia Cardinali in the Junior Rok, Natalia Balbo in the Shifter and the Bàbickovà sisters in the Senior.

Gaia Cardinali from Monaco proved to be very determined to recover in the Super Rok final, after a few unlucky qualifying heats. Lady Cardinali started from the backlines and, overtaking after overtaking, managed to reach a well-deserved sixth position.
Natalia Balbo (ITA) brilliantly stood out by performing a great recovery in the Shifter Rok. The Italian Lady was the author of great overtaking in the final, moving from the 21st to the 10th position under the chequered flag.
In the Junior Rok Vibriantyte Andreja (LTU) did an excellent race and ended the final in 6th position.
The two Bàbickovà (CZE), Eliska and Petra, have always been among the best drivers, to the point that Eliska closed the rating of the heats in fifth position.
In the final, Eliska has slightly lost ground ending 12th, while Petra finished 27th.
The other Bàbickovà sister, Tereza, raced in the Senior, where she gained the access to the Final with the eleventh position in grid. During the Final, a few contacts forced Tereza to the 22nd position, right ahead of the other Lady, Tanja Muller (CHE). Muller was particularly unlucky by being involved in a few contacts, which frustrated her potential.
Mathilda Paatz (DEU) reached the top ten (9th position) of the Mini Rok Singha Trophy at the end of an excellent recovery from the 23rd position in grid.
The other lady present in this final are: Klara Kowalczyk (POL) slipped to the 22nd position after a contact and Zoe Florescu-Polotea in 28th position.