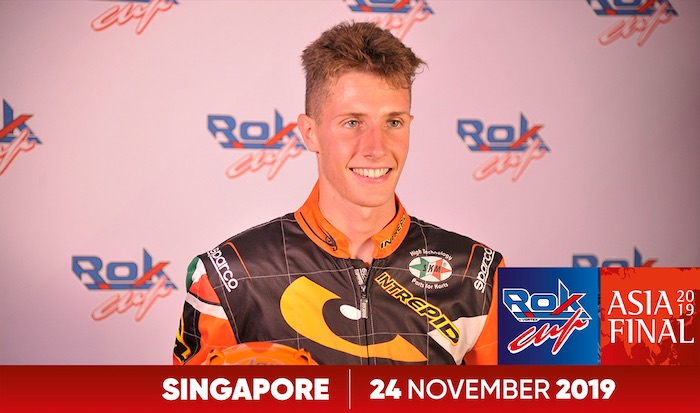 The 2019 Rok Superfinal Champion, Domenico Cicognini, conquered the opportunity to race the 2019 Rok Cup Asia Final with his victory in October at the South Garda. Domenico did not miss this wonderful opportunity given by Vortex and on the KF1 Karting Circuit in Singapore, he enjoyed a new and amazing experience.
How was the approach with the Rok Cup Asia event?
"The sporting atmosphere was fantastic, it was really great being all together sharing the same "roof". As far as I could experience, it was clear that in Singapore are all very keen on engines and Rok".
Which feeling did you have in the KF1 Karting Circuit paddock?
"Scenically in Italy the context within the paddock is more impactful, with large tents. But that very aspect, for an outsider who comes to attend competitions, can create an idea of "closure" compared to what I found in Singapore where everything is more open. You anyway work very well like this.
The organization was almost perfect. The app to follow the live races was available and, despite the variable weather, the program has always been respected. These aspects, together with other positive details, showed great professionalism and struck me particularly."
Did the competitive level satisfy you? It was a complex challenge of course, you fought against very fast Rokkers, on an unknown circuit for you, different from those of European conception.
"In my opinion, all drivers are very strong and they also have the advantage of paying at home."
As a new champion of the Super Rok, you accepted the Asian challenge, facing a very particular track.
"The first impact with the Singapore track was difficult. First, you have to race counterclockwise, a new condition for me. Besides that, the track is narrow with an alternation of slow and mixed stretches, with very fast changes of direction. At the end of the day, on this not very long track, it took me a few laps to find a good set-up. "
After the first impression, how was the race?
"I started badly in qualifying, I didn't expect to gain the pole but I thought I could do well. Instead I had a lot of difficulty and I only finished 10th.
Later, with the used tires I made up for it, I was fast and I have always ended in top three in the heats. With this result I started in pole position in my prefinal."
Which was your best moment in your experience in Singapore?
"Certainly, the most emotional moment I experienced was in prefinal, when we faced ever-changing conditions. We started on dry asphalt and after 8 laps it started to rain with an increasingly intense rhythm, until it turned into a real downpour.
In these phases, in which I had slick tires, I remained calm, I drove without forcing even though I ran a couple of good risks and almost ran off the track.
When the rain became very strong, the race was interrupted and I won the prefinal. "
In the Final, you almost gained the podium. Was it a good result or are you disappointed?
"I knew the Final would have been raced in the rain and in the early stages I was a third and I struggled a bit. After a few laps, everything started working but a contact with Piccini made me spin right round and I lost a lot of time…. At this point I concentrated and took the first's same pace, finishing fourth with satisfaction and aware that the podium was within my reach. "
What do you reject about Rok Asia?
"Only the parc-fermé that seemed small to me, being used to ours, very spacious.
Another positive aspects were both the technical checks on the engines, very precise and detailed, and the fact that the same engines were sealed on Friday evening, before qualifying heats. A regulation that I really appreciated. "
Your Rok Asia in Singapore, considering your enthusiasm, was a wonderful experience. Are you already thinking about the 2020 Rok Asia edition?
"We would need a Singapore here, because it is a track diametrically opposed to our standards, which shows off the value of the driver.
Yes, it was an experience that I would be honored to repeat and for this I thank Rok and Vortex who allowed me to live an incredible week, together with my mechanic Giacomo Fiorini (Flowers Racing) who did an incredible job, allowing me to fight for victory. See you in 2020."
photos: Rok Cup Asia