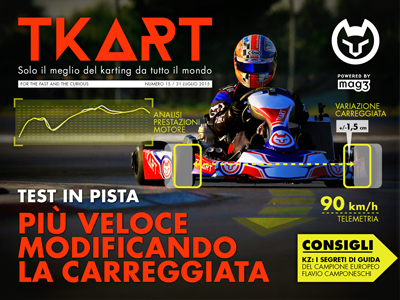 Front track width: how to adjust it and how it impacts performance – find out on TKART Issue 15
Did you say tech-time? We sure did! This time we hit the track in Adria with our very own TKART-brand kart to test what changes when the front track width is wide or narrow – 5 must-see slides packed with interactive and illustrated details! And not only. We share European champion Flavio Camponeschi's KZ racing secrets, we unveil three new tricks "stolen" from the big teams of the international paddock, we zoom in on the European title winning Mad Croc karts, we share three notes from Australia, and we suggest four low-cost accessories that make a difference.
Not enough for you? Good, because we also have plenty of race reports, starting from the last act of the CIk-FIA Europeans in Sweden that crowned the 2015 KF and KFJ champions. What else? As always, we take a trip around the world with great photography and juicy news. And then? Then we analyze the engine market trend in the 60 Mini, we dive in the past with Mario Pazos' amarcord, and we invite our media colleagues to speak up in a new "op-ed" section. And, sure (how could we not?), we sadly and affectionately salute the great French talent Jules Bianchi through our Director's fond memories.
Yes, there is a super lush issue waiting to keep you busy and entertained while we're on vacation. But don't worry, we'll be back before you know it with new multimedia contents, more fun and useful than ever!
So hurry, your copy of TKART Issue 15 is just a click away!