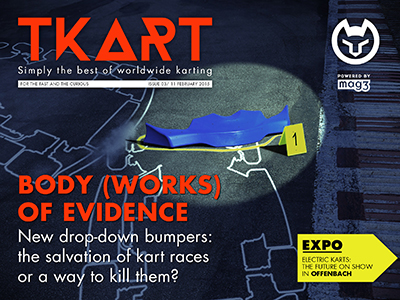 The third issue of TKART Digital 2015 covers the most sensational topic there is in the way of technical innovation: the new "drop-down" front bumper system introduced by the CIK-FIA.
We saw it in action: bang, contact with who is ahead, the bumper drops to the ground and the driver has to return to the pits. Thumbs up? Thumbs down? We did a survey of the paddock asking industry operators and drivers what they think, we evaluate the pros and cons, we reconstruct how the system works at the moment of impact (in practice and in theory), and we review its evolution from concept to track. Did we say tech? Yes, but lush!
And that's not all, dear TKARTers ! This issue also takes another round through the stands of the Offenbach IKA fair, to bring you an in-depth review of the last generation electric karts and rental models and take a close look at the new MyChron5 by AIM.
Want more? Good, because we also relive the back-to-back weekends of the WSK Champions Cup in detail (champions, analysis, races in 1 minute, report cards and statistics). Not only, we unveil the new look of CKR karts for 2015, and then…
The rest is for you to discover! TKART n.3/2015 is waiting for you. Enjoy!