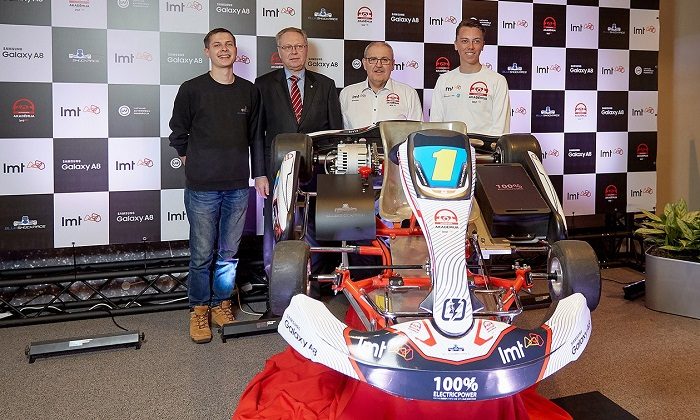 Latvia will become first country in the World to hold National Karting Championship for electric Karts, when Round 1 of Latvian Karting Championship kicks off in Kandava go-kart track on May 1, 2018. All-new "TK Electro" class will have around 15 participants for the very first race and few more are expected over the course of six-round season.
Latvia's local "Blue Shock Race" (BSR) factory has been producing electric go-karts for three years, with President of Latvia Mr. Raimonds Vējonis trying the kart out himself in demo event during speed festival "Kurzeme 2015". This year BSR joined forces with Latvia's leading young drivers assessment program "LMT Autosport Academy" to create all-new class for Latvian Karting Championship.
The new concept is to be presented to the President of FIA Mr. Jean Todt when he visits Latvia on April 5, 2018.
"We have the funds to distribute 10 electric go-karts to professional schools in Latvia, and we are very grateful to our sponsors – Latvia's leading mobile operator LMT – for this support. We want to promote electric mobility and environmentally friendly solutions, as well as smart solutions that electric powertrains offer," says Dainars Dambergs, general manager of "LMT Autosport Academy", promoters of the all-new class. "Together with our sponsors we hope to create a series that are modern, technology-driven and can show know-how of Latvia in electric engineering. We have some really strong electric engineers here, just to name Andris Dambis who produced a car that claimed overall victory in Pikes Peak International Hill Climb (PPIHC) in 2016. That was the first time electric car won in PPIHC, and now Latvia is the first country in the World to hold Electric Kart Championship. I am very proud to be Latvian!"
Latvian Championship status to "TK Electro" class has been granted just a few weeks ago after a written approval from "LMT Autosport Academy" that not less than 10 electric go-karts will be present in every round of Latvian Karting Championship. President of Latvian Automobile federation Raimonds Kisiels: "Karting is the essentials of racing. This is where nation's driving skills and road culture begins, and we will begin with that as well. The more people we attract to karting, the more skilful new drivers will be,
even if they don't turn into professional racers. Electric engines – this is future, but now. In case of Latvia – our own created future. I am honoured that Latvian Automobile federation takes part in this project – this is the best way to show that we are innovative and progressive."
"After three years of testing, we are now ready to step up to Latvian Championship level," says Artis Daugins, founder of "Blue Shock Race". "BSR is proud to be in front of big companies like Bosch and Rotax who are only developing their products. We have a ready solution that can be raced in National Championships already. As of now, we have the capacity to produce more than 100 electric kits or complete electric go-karts by the end of the year. So anyone willing to switch to electric power is welcome!"
The karts to be used in "TK Electro" class have power output of 15 Kw and 50 Nm of torque via AC engine, and are capable of 130 km/h max speed. BSR-produced bolt-on electric kits include a battery pack, an engine, an engine controller, complete wiring and all the necessary hardware. The kit can be installed to any chassis that now runs with internal combustion powertrain. BSR kits are able to do at least 15 minute run on one battery pack, while the pack itself can be easily changed in 2 minutes time. The price of bolt-on electric kit is from 4900,- EUR excluding VAT, while complete electric go-kart is priced at 6800,- EUR on CRG Junior or similar chassis.
Latvian Karting Championship calendar in "TK Electro" class
1.05. Kandava
26.05. Madona
9.06. Smiltene
28.07. Kandava
25.08. 333, Ropaži
29.09. Jelgava