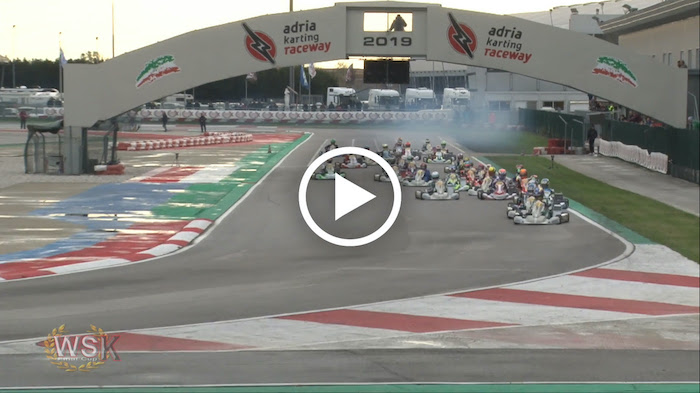 WSK Final Cup
Racing until the season's last flag.
Adria Karting Raceway, Adria (I), November 14th – 17th, 2019
The chequered flag has fallen on a fantastic 2019 WSK Season. We raced the Final Cup yesterday at Adria – this is what happened…

Posted by WSK Promotion on Monday, 18 November 2019
The recap of the event at Adria.
The story of the WSK season's conclusive round is on video. The recap of last weekend at the Adria Karting Raceway has been uploaded into the Video Library of the WSK's Facebook fan page. Have a look to the WSK Promotion's Final Cup at the Adria's circuit. Click on the buttons and relive the event!
Friday's highlights
Saturday's recap
Saturday's HL – Final Cup 2019

The chequered flag on a fantastic 2019 WSK season is just one day away. But before we race the WSK Final Cup, let's recap Saturday's action here at Adria International Raceway

Posted by WSK Promotion on Saturday, 16 November 2019
Briefing in Adria
After drivers briefings, we are on track for the qualyfing practices#kart #karting #kartinglovers #kartinglife #race #racing #racinglife #speed #WSK #wskpromotion #Adria #finalcup

Posted by WSK Promotion on Friday, 15 November 2019
Adria's kerbs
Be brave, hit that kerb!

Posted by WSK Promotion on Saturday, 16 November 2019