Simo Puhakka brings Tony Kart onto the podium of the general rating of the FIA Karting European Championship at the end of the last round raced in Genk where the Tony Kart Racing Team is playing a leading role with Noah Milell

The KZ FIA Karting European Championship of the Tony Kart Racing Team is ending with the third position in the championship conquered by Simo Puhakka after a difficult and binding weekend due to the changeable weather conditions of the first two days. In Genk, however, besides the good position reached in the rating, the Tony Kart Racing Team and our Tony Kart Racer 401 R powered by Vortex are brilliantly standing out in the KZ category with Noah Milell too.
The weekend of the Swede starts with a wonderful 
Pole Position 
on Friday. Milell makes the most of the 
OTK Kart Group 
package and centres two victories and a best lap in the Heats, where he finally has to withdraw due to a contact he gets involved in at the start of the first round.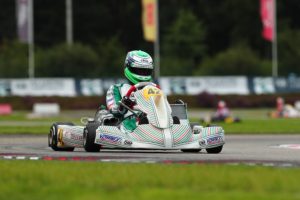 The closely fought qualifying instead, prevents Simo Puhakka from aiming at a better position than the seventh one, despite his excellent performance. The race is then getting more difficult for the Finn, who is anyway able to stay close to the first.
Finally, in the decisive race, our best standard-bearer at the finishing line is once again Noah Milell, ending fourth.
In Genk, Tony Kart is occupying the top positions of the line-up also in KZ2. Here, Paavo Tonteri from SC Performance gains the third position in the rating in the Qualifying Heats, where he gathers a second and a third place centring a best lap too. In the same category, our Gilles Stadsbader is making a great deal of progress, managing to reach the topten for the final. Here, however, both Tonteri and Stadsbader are not able to express themselves at best, getting involved in the brawl during the first stages of the race.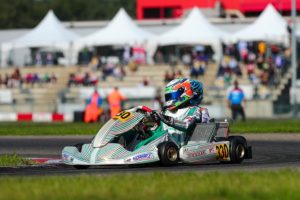 The Tony Kart Racing Team is now looking forward to the FIA Karting decisive appointment, with the OK and OKJ classes ready to fight for the European Championship in the last and decisive race meeting scheduled for this weekend on the track in Wackersdorf, in Germany.