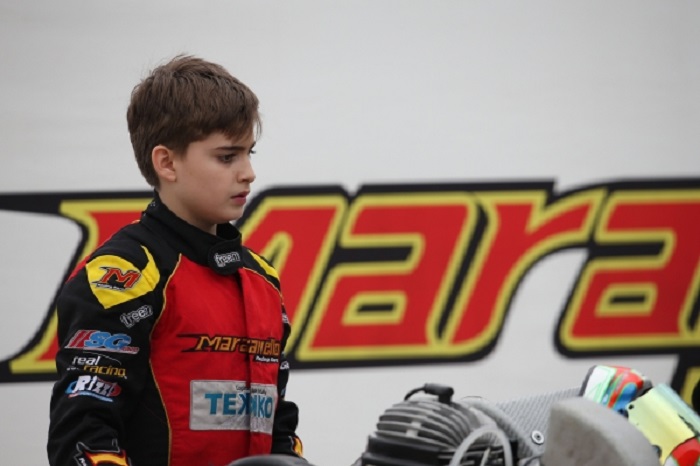 Alexandru Iancu run a strong race in the third round of WSK Super Master Series at the International Circuit Napoli in Sarno, where the very young Romanian driver of Maranello Kart obtained a well deserved podium, after shining throughout the weekend.
The challenging round of WSK, that had 75 internationally ranked drivers at the start, saw Alexandru Iancu shining since the beginning of the weekend, when he posted the 10th quickest time in qualifying before putting in several good performances in the heats and climbing up to P6, claiming a win in the process. Iancu kept his momentum in Prefinal, ending second, and then put in a great overtaking move at the first corner.
After leading the Final for the first two laps, Iancu had to concede the lead of the race in the slipstreaming game, but managed to stay in the fight for the top all the way to the flag, eventually crossing the finish line in fourth position. A time penalty handed to Antonelli allowed Iancu to take the third place of the classification though.
This result, and most of all the performance put in by Iancu at the beginning of the season, place him among the main International protagonists of category Mini.
The next round of the WSK Super Master Series campaign will take place on April 8th in Sarno. Maranello Kart's colors in Mini will be defended again by Iancu, while Lorenzo Camplese will compete in KZ2.
Maranello Kart Media
01.04.2018