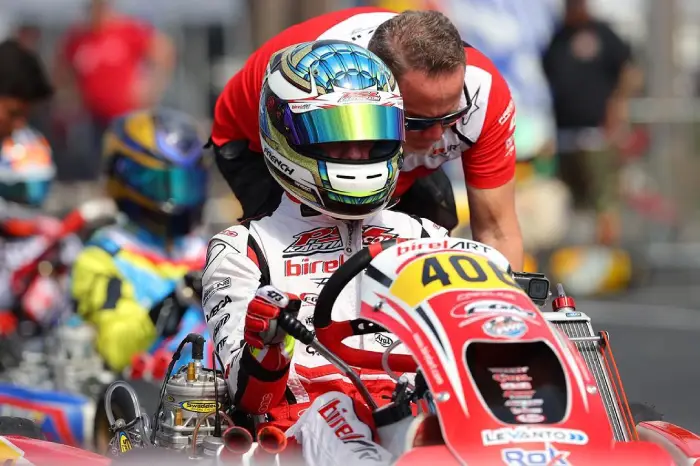 "The French family was always there to lend a hand or build a kart".
Announcing his retirement from karting, BirelART North America and PSL Karting send a heartfelt thank you to the French family. As part of the BirelART family for the past few years, the French family has worked tirelessly in the Texas market to ensure product representation and growth. Additionally, Jake's results on the national level have proven that he is one of North America's best shifter kart drivers and his representation of the brand has been unimaginable.
"With Jake leaving the sport to pursue other options, we have been left with a major hole to fill," explained BirelART North America's Dominic Labrecque. "Jake and his family have not only grown the brand but brought new drivers into karting and expanded their knowledge to others. They have been ambassadors of the BirelART product line and the sport itself."
Jake French has been a BirelART North America Factory driver for the past three seasons and worked tirelessly to push to better both on-track results and the development of the product. Jake was dedicated to his race program and strived for success. BirelART North America and PSL Karting thank him for all of his hard work both on and off the track.
Becoming a dealer for BirelART North America in December 2019 through their Full Gas Motorsports operation, the French family served North Texas since that time competing in local and regional competitions throughout the state. Spreading their experiences to the youth of the sport, Jake mentored and coached many drivers in the past three years while the French family maintained, stocked, and sold BirelART products. Growing their dealership with their trackside presence, Full Gas Motorsports is one of the most respected kart shops throughout the state of Texas.
Labrecque continued, "We can't thank the French family for all their hard work and support. Running a local operation but assisting on the national level, any member of the family was willing to lend a hand, turn a wrench or build a kart without hesitation. Their unwavering loyalty was incredible, and they will be missed. Thank you, Mark, Gina, and Jake!"
For more information to become part of the BirelART, Ricciardo, Charles Leclerc or TM Racing dealer networks or information on how to join the PSL Karting / BirelART North America Race Team, please contact [email protected]
Press Release © Race Tech Development