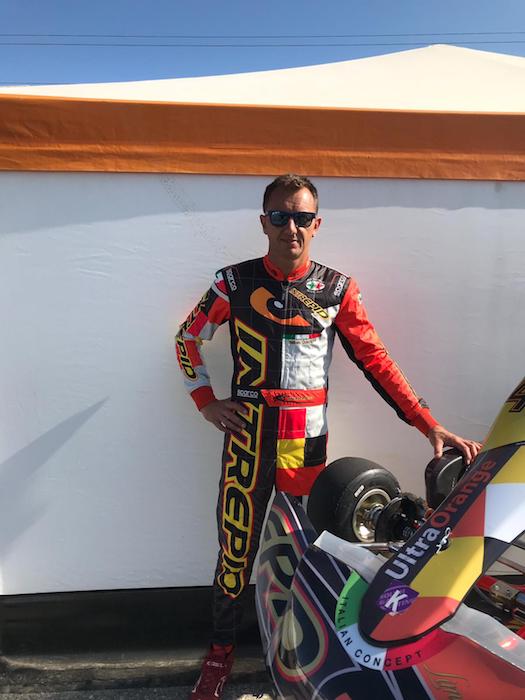 It will be the colours of Intrepid Driver Program, in the end, those that Davide Forè will wear at the FIA Karting World Championship scheduled at South Garda Karting in Lonato from the 20 to the 22ndof September. The Worlds are already a meeting not to be looked down on by any driver, but this edition will be a very special one for the Italian champion, fired up by the idea of fighting for the title surrounded by his family and friends.
A month and a half away from the start, there were still doubts surrounding his participation after the divorce with Taglienti Kart. In fact, it is only in the last few days that the pieces of the puzzle have all gone to their place.
So, how did this collaboration come to be? What's the potential of the whole package? And what are the thoughts of the driver? TKART sought the answers directly from the man in question:
"First of all, I must say– Davide begins – that without Luigina Guerrini this opportunity wouldn't even have materialized. Those who know me are aware that Luigina played a crucial role in my life: she managed me inside and outside the track, both as a driver and as a man. She knew how strong my resolve to take part in this race was and she's been of great help to find not just a seat but a package with which, I'm sure, we can perform at the top. The idea was met with open arms by Mirko Sguerzoni and Intrepid Driver Program as it was by TM Racing after Luigina spoke with Franco Drudi himself."
 A considerable organizational effort, therefore, that everything looks but a backup plan:
"That's right. It's even more incredible if you think that everything was set in a few hours' time. Usually, at this point in the season, it's not that easy to 'place' drivers. Moreover, as far as I'm concerned, I would have never showed up on the grid of the Worlds just to make up the numbers. The enthusiasm shown by Intrepid Driver Program and their commitment to satisfy every of my requests are a boost to my motivation."
 Now, however, you must get ready also in terms of competitiveness:
"Sure and, as I said, I'm very confident about what we can achieve. After a first shakedown of just a few laps, we came back in Lonato this morning (August 16th) and started to carry out the most intense phase of the program by comparing frames, getting to grips with the brakes and everything needed to pick the direction to follow.
Mirko Sguerzoni too joined us and, together with the team, we gathered quite a lot of data to work with, paired with my indications. As for me, I need to balance my preparation with my commitments as a driver coach which I absolutely don't want to overlook, since, I believe, that's what my future will revolve around. We'll continue to try new parts and I'm sure that, by the week before the OKJ-OK World Champs, we will have all the elements to make up our minds. With regards to the engine, that's not an area of concern: we know that we are in good hands."
We are still a month away from the start but, for someone with such a long career as yours, the following question almost becomes a must: Is it going to be your last World Championship?
"I find it very difficult to answer now. Had someone asked me this question before, maybe the answer would have been clear in my mind. Time goes by for everyone and, when I accepted the role of Team Manager at Birel ART, I thought that my professional career had taken a very precise path. In the end, I must have underestimated my very same passion and that of the people around me. Much has changed in recent months and I have put myself on the line in many ways. That's why the only thing I can say at this point is: never say never."