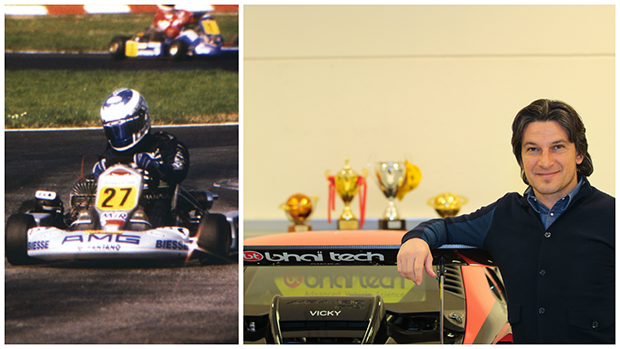 Hey guy! This is only an article preview of TKART 04/2015!!!!! If you like please SUBSCRIBE here!
[divider style="dotted" top="10″ bottom="15″]
Giorgio Pantano is a GP2 champion and used to be one of Dino Chiesa's karting pupils. Today he is the head of the new junior team in Bhai Tech's orbit.
[divider style="dotted" top="10″ bottom="10″]
[dropcap]G[/dropcap]iorgio Pantano was born in Padua, Italy in 1979. He started racing karts when he was 10. A driver of indiscussed talent, he went on to win several Italian, European and World titles.In single-seaters he proved to be a "pure bred" and in 2004 he contended 14 F1 GP races with team Jordan.
Now Giorgio has launched his own team for the Mini category in parallel to Strakka BhaiTech, with the goal of creating a driver development continuum.
[box type="shadow"] Watch Giorgio Pantano's complete interview, on TKART issue 4!
Buy it on mag3.it and read it on your PC/tablet/smartphone (Apple or Android).[/box]

[divider style="dotted" top="10″ bottom="10″]
[ads2]
[divider style="dotted" top="10″ bottom="5″]