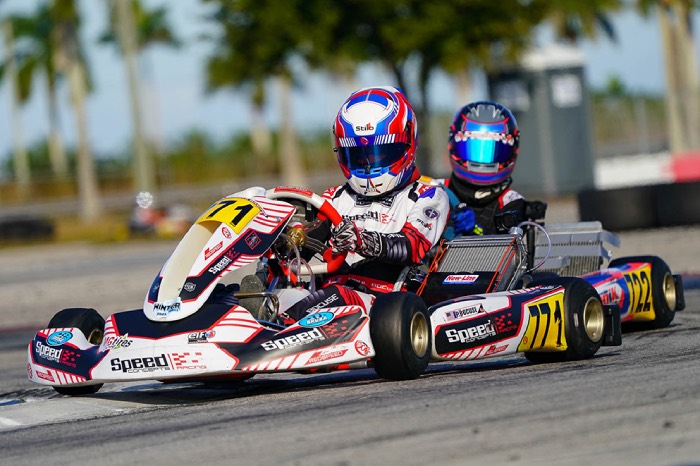 "Strong results in January lead to growth in February".
Only two months into the 2021 karting season and Speed Concepts Racing (SCR) has added to its driver lineup. After a successful January that saw multiple wins and podiums, SCR has added drivers to their elite level program. Ready to take on the AMR Motorplex in Homestead, Florida for the final rounds of the Superkarts! USA (SKUSA) Winter Series, Speed Concepts Racing will be represented in four different classes.
"January was the perfect way to start a new year of racing," expressed Mike Speed. "To have our Junior drivers at the front of the field and winning as well as show strength in Senior, we have been able to add more drivers to our program and look to help them be just as successful. Welcome, David Ramirez to the Speed Concepts Racing program and welcome back G3 Argyros, who is returning after an injury during round one."
Fresh off of a pair of victories in January, Paul Bocuse will look to continue his winning ways in February. Sitting third in the overall SKUSA Winter Series championship chase, Bocuse will look to fight his way to the front of the field both on the track and in the championship point standings. Fellow SCR teammate Ayden Ingratta will join Bocuse in the X30 Junior category as he currently sits seventh in the title chase. Showing speed throughout his two events in January, Ingratta has been at the pointy end of the field and has grown leaps and bounds throughout the past twelve months as he aims for his first win of 2021.
Competing in both 125cc and gearbox categories in 2021, Mathias Ramirez will be back in the X30 Senior class in Homestead. Sitting fifth after the first two rounds and improving his results and speed from rounds one to two, Ramirez aims to continue that upward trend and challenge for the checkered flag.
Speed added, "Mathias is a great talent that can easily go between multiple divisions and be at the front in each. With the first events now under our belt since he joined our program, we are expecting even better results as we progress through the season."
Speed Concepts Racing will have one new driver in South Florida as David Ramirez will compete in the Micro Swift ranks while G3 Argyros and Speed Factory will return to the KA100 Junior class after injuring his hand during round one. Ready to take advantage of the Speed Concepts Racing Driver Development program, Ramirez and G3 will pilot Redspeed chassis by OTK and be under the watchful eye of SCR's Alex Speed.
Speed Concepts Racing has the opportunity to add a few more drivers in 2021. Please contact Mike Speed at Mike@Speed-Concepts.com.
For more information on Speed Concepts Racing and the Redspeed Racing Kart, please contact Mike Speed via email to Mike@Speed-Concepts.com. Be sure to follow Speed Concepts Racing on Facebook, Twitter, and Instagram for news, results, information, and photos from the event. Find us at 'Speed Concepts Racing' or @SCR_Karting.
Press Release © Speed Concepts Racing