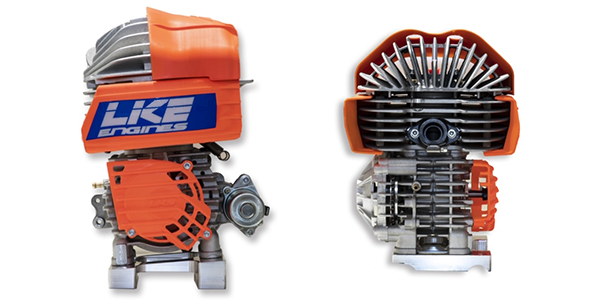 LK-R15 is the name of the new LKE Engines model presented for the last homologation session and designed for the MINI category.
The engine division of Lenzokart, the company located in Brolo (ME), has certainly not been caught flat-footed by the 2020 approval cycle as their new engine is the result of a long period of research and development. More specifically, most of the work carried out by the LKE technicians was focused on the aspects related to cooling.
The project is completely new compared to the previous model, as can be seen from the exterior look, now boasting an innovative cover placed above the cylinder head on the side of the exhaust, with the goal of lowering the temperatures in the hottest area of the engine.
The cover, together with the side conveyors, are made of plastic by Plastitalia, a company belonging to the Lenzo family group.
There's no lack of changes inside the engine too, the main one being the introduction of a third support bearing on the clutch side. The crankshaft and the connecting rod have also been redesigned, with both now equipped with bearings and seals of reduced size compared to the previous model in order to reduce friction.
Stay tuned on the channel Under Review of TKART Magazine for a detailed analysis of the new LK-R15 engine by LKE.