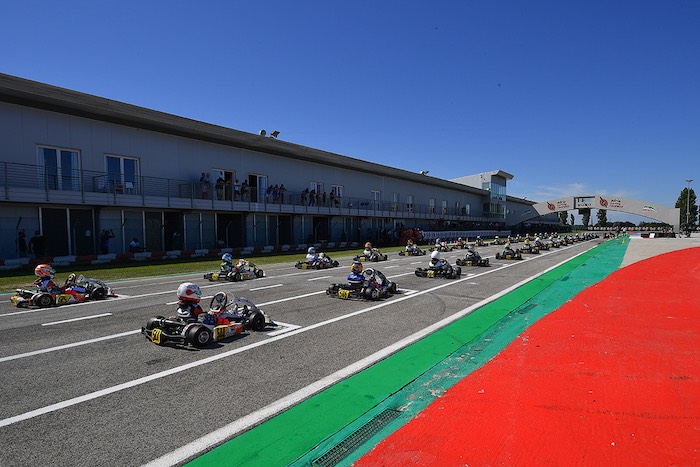 The moment has come for the WSK Open Cup, the event that opens the 2020 season finale by WSK Promotion and that, due to the Covid-19 emergency, will run a double round from November 24-29 at the Adria Karting Raceway. Despite the difficulties to reach the venue by foreign drivers, the number of entered drivers is quite good as all protagonists are gearing up to challenge each other in the closing event of MINI, OKJ, OK and KZ2.
The round in Adria will officially begin on Tuesday, November 24th, with scrutineering and free practice. Qualifying practice will follow on Wednesday, November 25th, from 11.30 for Round 1 and 13.50 for Round 2. The first qualifying heats of Round 1 will then be in the afternoon and will end on Thursday. Qualifying heats of Round 2 will be on Friday, November 27th and will end on Saturday morning, while Prefinals of Round 1 and Round 2 will be in the afternoon. All finals will take place on Sunday, November 29th. Round 1's finals will get underway from 11.00 to 13.00, while the Finals of Round 2 will be from 14.00 to 15.55 and will name the winners of the Open Cup 2020 titles.
A lot of protagonists of the season will be present like the Russian Gerasim Skulanov (Formula K Serafini/IPK-TM Racing) in MINI, who is second in WSK Champions Cup, as the other Russian that is the WSK Super Master Series Champion Dmitry Mateev (Energy Corse/Energy-TM Racing). He recently moved to Junior. The WSK Euro Series Champion from Holland René Lammers will be present too. The WSK Champions Cup winner Taylor Barnard (Rosberg Racing Academy/KR-Iame) will be present in OK, as the WSK Champions Cup OKJ and WSK Euro Series OKJ winner from Italy Alfio Andrea Spina, who will be at the debut in Adria in the higher category on Tony Kart-Vortex. In OKJ, the WSK Super Master Series Arvid Lindblad (KR Motorsport/KR-Iame) will be present. Several strong drivers will also be present in KZ2 too. Among these, the Swede Viktor Gustafsson (Leclerc by Lennox Racing/BirelART-TM Racing) and the Dutch Stan Pex (KR Motorsport/KR-TM Racing).
The program of the WSK Open Cup at the Adria Karting Raceway:
Monday: Free practice Rd.1 and Rd.2;
Tuesday: Scrutineering Rd.1 and Rd.2, Free practice Rd.1 and Rd.2;
Wednesday: Free practice Rd.1 and Rd2, Qualifying Rd.1 and Rd.2, Heats Rd.1;
Thursday: Warm-up, Heats Rd.1;
Friday: Warm-up, Heats Rd.2;
Saturday: Warm-up, Heats Rd.2; Prefinals Rd.1, Prefinals Rd.2.
Sunday: Warm-up, Finals Rd.1 and Prize Ceremony, Finals Rd.2 and Prize Ceremony.
Live streaming feed from www.wsk.it.
The program and entry list is available at www.wsk.it.