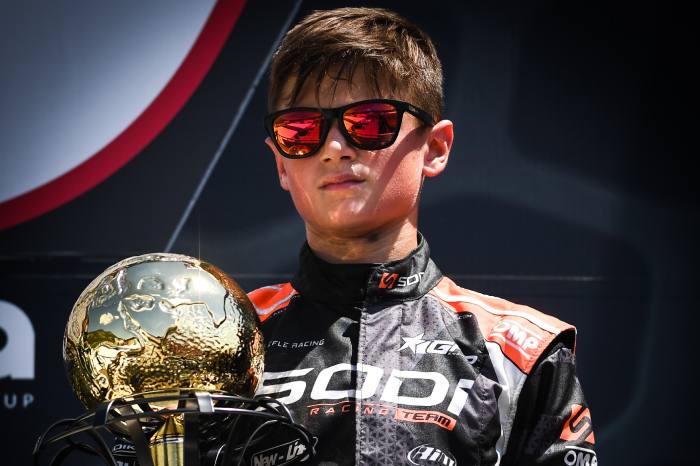 After an excellent first half of the season marked by several victories and a brilliant European Championship, the Sodi Racing Team has started its preparation for the FIA Karting World Championship – OK-Junior that will take place in September in Sarno. The Italian circuit hosted a WSK Euro Series event from 29th to 31st July and, in the presence of an impressive 83 drivers, the French team and British driver Nathan Tye took 3rd place in the Final at the end of a highly informative meeting.
It is already the seventh podium for Nathan Tye in OK-Junior in 2022! The British driver and the official Sodikart factory team remain among the best performers of the season, thanks to extremely competitive equipment and the expertise of the technical team. In the hot weather, which is common in the Naples area, the young international karting hopeful once again put in a remarkable performance.
Successful World Championship preparation in Sarno
Nathan Tye gained places in each of his five heats by showing a high and constant pace. He came back to 3rd overall, but had to deal with some particularly tumultuous starts, both in his Super Heat and in the Final. Relegated to 7th at the beginning of the race, Nathan then launched a magnificent comeback, which eventually led him to 3rd place.
"I would like to thank my team once again for preparing such a great package for me," said the recent winner of the Champions of the Future Euro Series. "My Sodi-TM Racing package was very effective and very consistent. I set my fastest time on the last lap, which allowed me to get the podium at the very end of the Final. Whichever competition we have entered this season, we have always performed well. My 3rd place in this WSK Euro Series event obviously bodes well with less than two months to go before the World Championship."
The big FIA Karting event was indeed on everyone's mind in Sarno. "We are very satisfied with our competitiveness, especially as the Sarno track combines almost all the difficulties that a circuit can have," added Mansel Smith, team manager of the Sodi Racing Team. "The Free Practice and the racing were really instructive in view of the World Championship. We have always worked in the right direction and we have reaped the rewards. I want to congratulate the team and our technical partners, especially GFR for their TM Racing engines, which were again very fast. Congratulations also to our young driver Andy Consani who drove very good heats and was close to the top 10 in the Final when he had to retire. As for Adam Hideg, he was 23rd at the beginning of the Final, before moving up to 12th."
Press Release © Sodikart