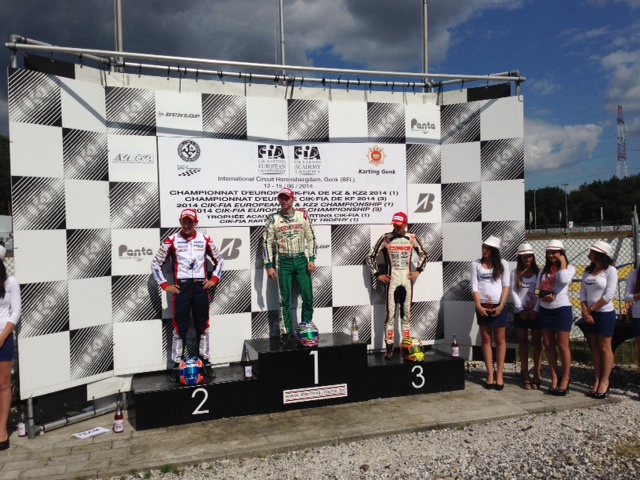 HOT NEWS – TKART – GENK (BE) – Marco Ardigò (Tony Kart/Vortex) smokes the competition winning the final ahead of Rick Dreezen (Zanardi/Parilla) and Jordon Lennox-Lamb (CRG/Maxter)
Marco Ardigò (Tony Kart/Vortex) truns out to be the ruler of the first round of the KZ European title hunt. He starts in pole position and ends with an undiscussed victory.
The great duel many were expecting between Ardigò and Jonathan Thonon (Praga/Parilla) does not happen, after all. Not only, Thonon is sent out as he is pressing the race leader, as Arnaud Kozlinski (Intrepid/TM) bumps into him in his own attempt to defend himself from Paolo De Conto (Birel/TM). Both Kozlinksi and De Conto put the pedal to the metal, Kozlinski fails to brake sufficiently, and ends up rear ending Thonon. The Praga driver is the one who gets the worst of the chain reaction: he is forced to restart his engine.
However, things don't go well for "Koko" and De Conto either. The French driver goes off track toewards the end of the race as he clashees with De Brabander, while the Italian's engine breaks down as he is running third behind Dreezen. The race ends with Ardigò ahead of the Zanardi Strakka Racing driver. Jordon Lennox-Lamb takes advantage of the De Conto's withdrawal to complete the podium.
Finally, Bas Lammers (Formula K/Parilla) authors a great climb: after his withdrawal in the prefinal, he started the race from the rear and he is 8th at the flag, followed by Camponeschi, Aceto and Puhakka, all three on the rebound like him.