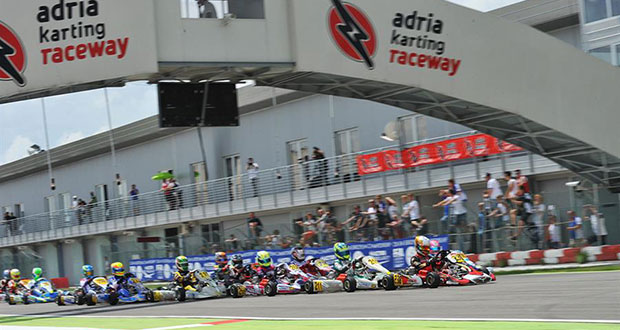 The CIK-FIA European Championship ready for tomorrow's finale in Adria (Italy). The pole-sitters are Tonteri (Fin – CRG-Parilla), Irlando (I – Energy-TM) and Hauger (N – CRG-Parilla) in the OK, OKJ and KZ2. The Finals will be streamed live on cikfia.tv and cikfiachampionship.com.

[divider style="dotted" top="10″ bottom="10″]
[one_half]
[dropcap]T[/dropcap]esting ground at the Adria circuit.
The weather played an important role in today's competition, raising the difficulty level of this second round of the CIK-FIA European Championship for the OK, OKJ and KZ2 categories, which is taking place at the Adria Karting Raceway. The race started with summer temperatures, which dropped during the afternoon because of several showers. In few words, drivers in Adria had to cope with all possible weather conditions, including wet asphalt. Only the most skilled drivers managed to take advantage of this situation and, tomorrow, they will have to do their best to achieve the success their are looking for in the Prefinals and in the Finals of this fundamental round of the Championship.
Tonteri is the pole-sitter of the OK.
Paavo Tonteri (CRG-Parilla-Vega), above, was the fastest in the OK. The Finnish driver, who performed well both on dry and on wet asphalt, scored a second and a third place: he will be the pole-sitter in tomorrow's Prefinal. The American Logan Sargeant (FA Kart-Vortex) will start next to him in the second slot: he won the second Heat but in the tough first race – run under the rain – he dropped back. In the wet Heat, the Spanish Pedro Hiltbrand (CRG-Parilla) was unbeatable, but he only scored a twelfth position in the second race, a result which placed him in the second row next to the Dutch Bent Viscaal (Tony Kart-Vortex). The Polish Karol Basz (Kosmic-Vortex), the current leader of the category, did not perform well and will need to recover starting from the sixth row.
[/one_half]
[one_half_last]
Irlando leads in KZ2.
The Italian Alex Irlando (Energy-TM-Vega) achieves his first top result in a CIK-FIA European Championship: he is the pole-sitter of the Prefinal 1 thanks to two victories in the Heats. Also his fellow countryman, Matteo Viganò (Top Kart-Parilla), put in a terrific performance winning one of the Heats and grabbing the Pole Position of the Prefinal 2. They all had to drive under the rain before managing to find the performance they were looking for, but eventually the Dutch Stan Pex (CRG-Vortex) and the Italian Matteo Zanchi (GP-TM) will start next to the two leaders on the starting grids of the Prefinals. The Italian Luca Corberi (Tony Kart-Vortex), the current leader of the championship, will start from the fourth row in the Prefinal 2: he finished two races rather behind.
Hauger attacks in OK Junior.
The Norwegian Dennis Hauger (CRG-Parilla-Vega) was the pace-maker in the Heats and secured the pole in the Prefinal 1 of the OK Junior: he will be the driver to beat. The Spanish David Vidales (Tony Kart-Vortex) is the pole-sitter of the Prefinal 2. There are good expectations for the performances of the current leader of the category, the Danish Noah Watt, and the Swedish Isaac Blomqvist (both on Tony Kart-Vortex): they will respectively fill the second slot on the grids of each Prefinal.
Final day live in streaming.
The live streaming will be broadcast live tomorrow – starting from 9.55 with the Drivers' Parade – on the web channels cikfia.tv and cikfiachampionship.com.
[/one_half_last]
[box type="shadow"] Fonte: cikfia.com[/box]
[divider style="dotted" top="10″ bottom="10″]