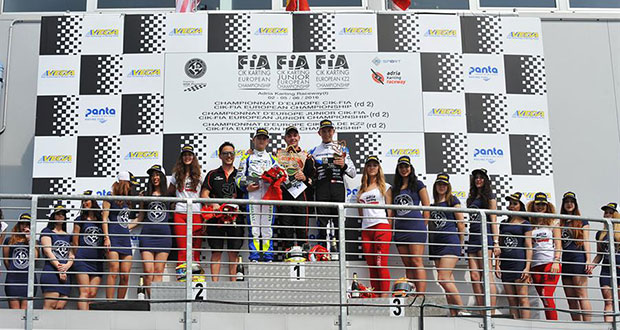 In the unpredictable European CIK-FIA Karting Championship in Adria (I) Hiltbrand (E – CRG-Parilla OK), Vidales (E – Tony Kart-Vortex OKJ) and Federer (I – CRG-Modena KZ2) achieve important victories for their standings. Next week the special report on Motors TV.

[divider style="dotted" top="10″ bottom="10″]
[one_half]
[dropcap]G[/dropcap]reat excitement at the European Championship in Adria.
There were showers on the European CIK-FIA Championship today too. The event, hosted for the first time by the Adria Karting Raceway in Adria (Italy), was at its second round for the OK, OK Junior and KZ2 categories. All the Finals were thrilling and the drivers' standings are still very uncertain before the third out of four appointments of the OK and OKJ Championship in Portimao (P), at the weekend of 26th June. On the other hand, the KZ2 has only one more race in schedule, in Genk (B) at the weekend of 31st July. As usual, the recap of this eventful round in the special TV report on Motors TV next week.
Hiltbrand seizes the moment and wins in OK.
The victory in the Pre-final did not allow Pedro Hiltbrand (CRG-Parilla-Vega) to confirm his leadership also in the Final, a wet race that the American Logan Sargeant (FA Kart-Vortex) led almost until the end, until an excellent Tom Joyner (Zanardi-Parilla) tried to overtake the leader during the last lap. The English driver managed to gain the head of the race, but in the tussle of the final sprint, which involved also the Polish Karol Basz (Kosmic-Vortex), it was Hiltbrand (on the OK podium, in the phoyo on top page) who managed to finish unexpectedly ahead of the frontrunners from the fourth position he was occupying until that moment. Behind him Sargeant, Joyner and Basz. The latter is still the leader of the Championship but, now, with a much narrower gap.
[/one_half]
[one_half_last]
Vidales wins in the OK Junior.
He started from the pole position of the OKJ Final but then the Norwegian Dennis Hauger (CRG-Parilla-Vega) was reached by the pack while the Spanish David Vidales managed to gain an early lead. Soon, the Swedish Isac Blomqvist (on Tony Kart-Vortex as well as Vidales) took over the leadership and kept it until the end of the race. Also this race – run on wet asphalt – kept the attendance on the edge of their seats, and an important role was played by the English Kiern Jewiss (Exprit-Vortex) who took advantage of the battle between the two frontrunners and placed second ahead of Blomqvist. Victory went to Vidales (on the OKJ podium, above), who gained the head of the race during the last laps and he is now much closer to the first position in the Championship, currently occupied by the Danish Noah Watt (Tony Kart-Vortex) head of Blomqvist.
Federer wins under the rain.
The Italian Fabian Federer (CRG-Modena-Vega) passed the pole-sitter Alex Irlando (Energy-TM) during the first lap and kept the head of the KZ2 Final until the chequered flag. Behind him, the Dutch Stan Pex (CRG-Vortex), who kept the leader under threat until the last stage of the race, when the rain conditioned all the drivers' pace. The race, for safety reason, was reduced and Federer managed to resist and to win in a sprint final against Pex. Good performance also for the Dutch Dylan Davies (CRG-TM), who managed to score a third place against all odds. Thanks to this victory, Federer (in the photo above, on the KZ2 podium) is now the leader of the KZ2 and Pex is second.
[/one_half_last]
[box type="shadow"] Fonte: cikfia.com[/box]
[divider style="dotted" top="10″ bottom="10″]