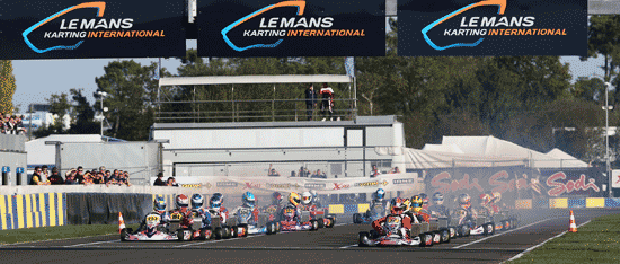 The 4th edition of the IAME INTERNATIONAL FINAL will take place from the 14th to the 18th of October at the superb new Le Mans Karting International Circuit. Every year this event celebrates the worldwide success of the X30 concept, developed by IAME, the world leading Company in Karting engine production.
[divider style="dotted" top="10″ bottom="20″]
[one_half]
[dropcap]T[/dropcap]he drivers can choose their chassis but they are put on an equal playing field in terms of engine and tyres. The event has attracted a massive entry of 340 drivers representing 44 nations who will fight for international titles in four categories: X30 Junior (13-15 years old), Senior (15 and over), Master (30 and over) and Super Shifter for gearbox karts (15 and over).
The organisers will also reward the best Veteran (45 and over competing in the Master category) as
[/one_half]
[one_half_last]
well as the best Lady.
Four former winners will be present. François Bécamel, who won in X30 Senior, Kip Foster and Graham Hill who were crowned equal in X30 Master and Thierry Delré, a double winner in X30 Shifter, all want to repeat their victory of last year.
There is free entrance for spectators.
[/one_half_last]
[box type="shadow"] Fonte: futureracing@yahoo.fr[/box]
[divider style="dotted" top="10″ bottom="10″]