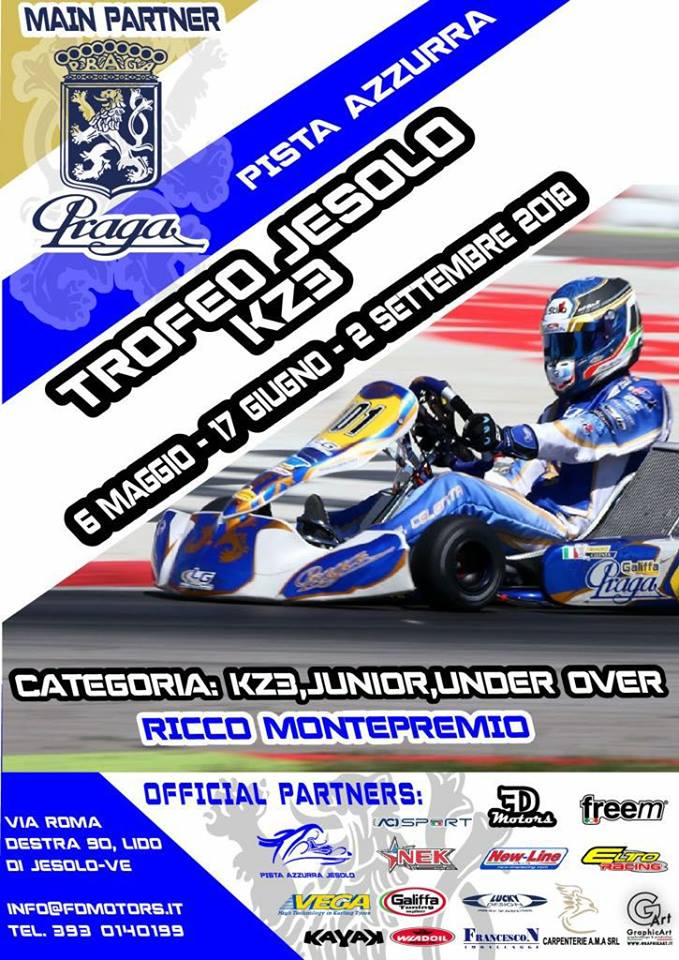 [translated with Google Translate]
A new trophy in Jesolo: this is the news that all KZ3 kart fans have been waiting for. And finally, thanks to the Pista Azzurra Direction, in 2018 there will be three dates in which to run, with lots of rich prize money.
The Jesolo Trophy was organized to respond to the requests of several riders in northern Italy to race in the KZ3 category. The latter category, in fact, has long been mistreated: in Lonato there is no more, and in the Triveneto there are only two active tracks with license. KZ3 Kart fans could not literally compete and run anywhere: hence, the choice to re-launch the KZ3 category, amateur, dedicated to those who compete for passion.
Of course, in the regional trophies there is still the KZ3 category, but there are no opportunities for meeting and training for the drivers. The categories admitted to the trophy will be three: Junior, Under and Over. The KZ3 Junior includes riders from 14 years (and six months) up to 24 years of age; the Under is for riders up to 35 years, the Over is reserved for karting over the age of 35.
The choice of the Jesolo track was in part the most obvious, given that the Pista Azzurra Direction manages it directly, but it is also a choice dictated by the great historical value of the track. Here, in fact, the champions cup was run in the eighties and, who knows, maybe this will be the right occasion to relaunch Jesolo as a sports karting center.
The dates of the competitions have already been set: 6 May, 17 June and 2 September 2018; further information will follow later, when the definitive regulation is drawn up.
The 90 euro registration per participant will compete in the rich prize money, made available thanks to the many enthusiastic sponsors who contributed (including Prague). The first prize, for those who will score the highest in the three races, will win a KZ3 branded Prague chassis. The three frames have a value of 15,000 euros, and probably, according to the organizers of the Trophy, will eventually reach a value of over 30,000 euros in prize money.
The goal of the organizers is to reward as many people as possible in the standings, just to revive the fate of karting in the Triveneto, and to help the guys who do not know when to run and where to meet.
Does the Trophy have plans for the future? Yes of course. According to how the races will go this year, it is thought that in 2019 it will also be possible to "raise the shot"; for now we are aiming at KZ3, because it was the most neglected and badly worn category in terms of sport (just think that the mini and KZ2 run every weekend).