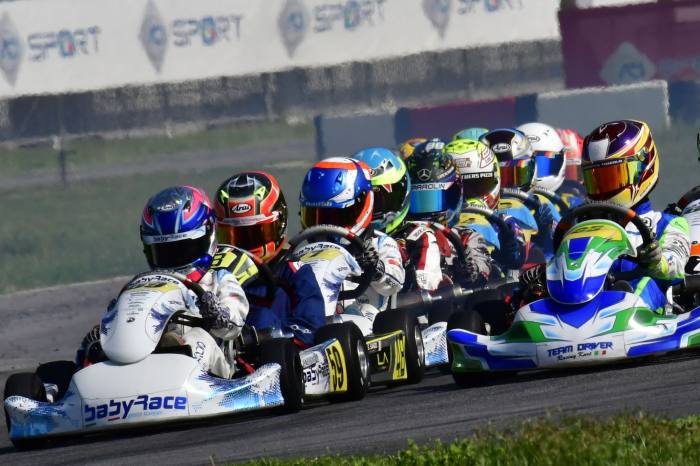 The race is valid as the title decider of the Italian Championship. Finals with live TV and Streaming coverage on Sunday, September 25 from 9:15 (race-1) and 13:25 (race-2).
A total of 185 drivers are on the provisional entry list and are ready to get on track in Val Vibrata for the fifth and closing round of the Italian ACI Karting Championship. On the track will be the categories 60 Mini, MINI Gr.3, KZ2, KZ2 Under 18, KZN Under, KZN Senior, X30 Junior and X30 Senior to live the last round of the season, which will have a coefficient of 1.5 (99 points in total are up for grabs for the winner of race-1 and race-2).
Rok Junior and Rok Senior, the titles won by Moretto and Grzywacz.
Rok Junior and Rok Senior will not be present in Val Vibrata as they did not reach the minimum number. According to the regulations, the Italian Rok Junior and Rok Senior Championships will therefore include only the 4 results obtained in the previous two double finals in Franciacorta and Castelletto di Branduzzo. In Rok Junior the Italian title has been awarded to Gabriel Moretto (Moretto/Tony Kart-Vortex-Levanto), who ended the campaign on top of the standings at 51 points, while the Rok Senior's title went to Bartosz Grzywacz (KGT Motorsport/Tony Kart-Vortex-Levanto), who scored 64 points.
The titles are up for grabs in Val Vibrata.
The titles to be awarded in Val Vibrata are those of 60 Mini, MINI Gr.3, KZ2, KZ2 Under 18, KZN Under, KZN Senior, X30 Junior and Women, while in X30 Senior the championship is already mathematically in Danny Carenini's hands (Team Driver/Tony Kart-Iame-Komet), who claimed his third Italian title.
KZ2. In KZ2 the main contender is Danilo Albanese, who totalled 217 points so far. He leads his teammate Mirko Torsellini, who stands at 167. Leonardo Marseglia is third at 134. Moritz Ebner is fourth at 113 points and leads the Under-18 classification. Among the new entries, Birel ART's official driver Alessio Piccini will be present and might bring some surprises. In KZ2 Under 18, the most credited rival of Ebner is Alex Maragliano: Ebner has 220 points, while Maragliano 191.
Italian KZ2 Championship
1. Danilo Albanese points 217
2. Mirko Torsellini points 167
3. Leonardo Marseglia points 134.
60 Mini. Domenico Coco (143 points) and Edoardo Mario Sulpizio (125 points) will battle out 60 Mini, but Gioele Girardello (105 points) is in the games too.
Italian 60 Mini Championship
1. Domenico Coco points 143
2. Edoardo Mario Sulpizio points 125
3. Gioele Girardello points 105.
MINI Gr.3. Things are quite open also in MINI Gr.3, where the two leading contenders are Iacopo Martinese at 230 points and the Spaniard Christian Costoya at 200.
Italian MINI Gr.3 Championship
1. Iacopo Martinese points 230
2. Christian Costoya points 200
3. Dries Van Langendonck points 151.
KZN Under and Senior. The two categories KZN Under and Senior will contest the third round after the two held in Franciacorta and Ugento. In KZN Under the duel will involve Massimiliano Casagranda (99 points) and the 2021 Champion Antonio Piccioni (90 points). The situation is quite open and Leonardo Pelosi could slide in the title fight too as he has totalled 66 points so far.
In KZN Senior Riccardo Nalon is strongly in the lead with 137 points. He is followed by the 2020 Italian Champion Andrea Spagni at 101,5 and Paolo Gagliardini at 95 points. Things are quite difficult for the 2021 Italian Champion Roberto Profico, as he is fourth with 65 points.
Italian KZN Under Championship
1. Massimiliano Casagranda points 99
2. Antonio Piccioni points 90
3. Leonardo Pelosi points 66.
Italian KZN Senior Championship
1. Riccardo Nalon points 137
2. Andrea Spagni points 101,5
3. Paolo Gagliardini points 95.
X30 Junior and Senior. The main favourite for the title of X30 Junior is Antonio Apicella, as he is leading the pack with 222 points thanks to 4 wins in the 8 finals run so far. The second and third places are currently occupied by Riccardo Cirelli at 174 points and Giacomo Maman at 156 (with one win).
In X30 Senior, Danny Carenini is already the virtual champion as he totalled 237 points so far. The fight for P2 is still open. The contenders are Sebastiano Pavan, who scored 115 points so far, and Riccardo Ianniello, who totalled 92 points.
Italian X30 Junior Championship
1. Antonio Apicella points 222
2. Riccardo Cirelli points 174
3. Giacomo Maman points 156.
Italian X30 Senior Championship
1. Danny Carenini points 237
2. Sebastiano Pavan points 115
3. Riccardo Ianniello points 92.
The program.
Thursday, September 22: Free practice.
Friday, September 23: Official Free practice from 13:55, Qualifying from 16:00.
Saturday, September 24: 9:00 Warm up, 10:20 qualifying heats.
Sunday, September 25: 8:00 Warm-up.
Race-1: 9:15 MINI Gr.3, 9:35 KZ2, 10:00 60 Mini, 10:20 KZN Under, 10:45 KZN Senior, 11:10 X30 Junior, 11:35 X30 Senior.
Race-2 13:25 MINI Gr.3, 13:45 KZ2, 14:05 60 Mini, 14:25 KZN Under, 14:45 KZN Senior, 15:05 X30 Junior, 15:25 X30 Senior.
Results, Live Timing, and Live Streaming are available at: https://www.acisport.it/en/CIK/home
Live TV and Streaming. The live coverage on TV will be on ACI Sport TV (Sky channel 228), the Live Streaming and on-demand will be available at www.acisport.it, Facebook (Italian ACI Karting Championship page). MS Sport (Mediasport Group) will show the race recorded. Specials will be shown within the ACI Sport Magazine on RAI Sport, local channels and the web covering the Italian territory.
Corriere dello Sport. A special on the Italian ACI Karting Championship at the Kartodromo of Val Vibrata will be published on Wednesday, September 28 in the Sports Magazine Corriere dello Sport.
To subscribe to the newsletter of the Italian ACI Karting Championship, please visit:
http://www.acisport.it/it/home/newsletter/iscrizione
Press Release © ACI Sport