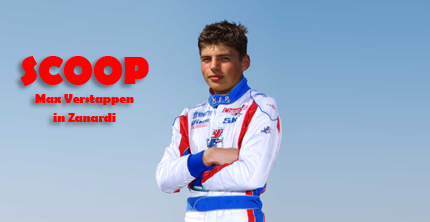 Sudden turn of events the day after the last round of the CIK-FIA KF2 European Championship: Max Verstappen is leaving the Intrepid Driver Program (which lines up the Intrepid/TM karts with which the Dutch driver has been racing since the beginning of 2012) and joins Dino Chiesa's court (the Chiesa Corse team, which uses Zanardi/Parilla equipment, is the defending World Champion).
The Dutch driver, son of former Formula 1 driver Jos Verstappen, will be racing with  his new white suit signed Zanardi as early as the next race of the WSK Euro Series in Zuera and until the end of the season (including in the last round of the KF1 World Championship in Macao on October 21); here is what dad Jos has to say about the change of colors: "this is the best possible decision Max could have taken today, but it's also a great way to go back to collaborating with the Tinini Group (the group that holds CRG, the brand with which Max has always raced and collected almost all his successes, n.d.r.): we've always worked with them and went along great."
The Dutch driver will take to the track in  Lonato as soon as next week to fine tune the equipment in view of upcoming races.
Instead, as far as the KF2 European Championship goes, the outcome will depend on the verdict of the Appeals Court, which will decided whether to confirm Verstappen as the winner or disqualify him and assign the continental title to Ben Barnicoat.
The opening image is a composite we made of Verstappen with Zanardi suit; here below, the driver with the Intrepid/TM he racde with at the beginning of the season :
(photo by FotoFormulaK.com)