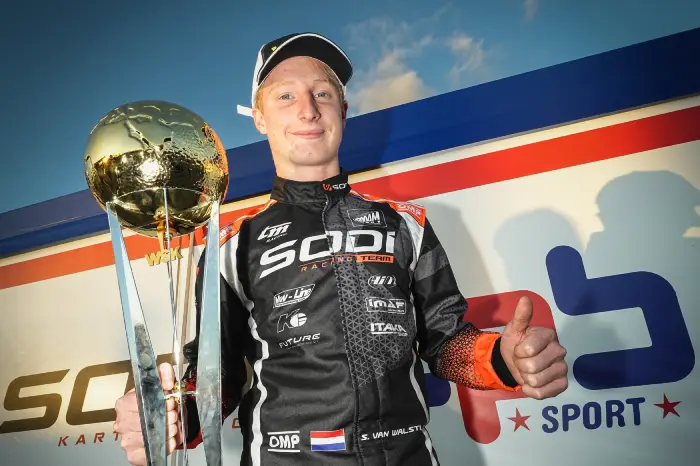 The Sodi Racing Team, with its brilliant pair of drivers, dominated the first round of the WSK Final Cup in KZ2. Émilien Denner, who took pole position, led the heats and won the Prefinal, was less successful in the Final, when his team-mate took over with authority at the front of the field, before triumphing after a long solo run. In total, the Sodikart brand placed four chassis in the top eight! It was also a positive meeting in OK with Nathan Tye's rise from 21st to 4th place in his second race in the category.
After victories in the Champions Cup, Super Master and Open Cup series from WSK Promotion, Sodikart has just added a fourth success in the events organised by the famous Italian promoter. Scheduled over two meetings, the WSK Final Cup had a rather difficult opening round to manage. The drivers and the machines were put to the test due to the alternating wet and dry weather conditions. But in any case, the Sodi Racing Team was able to handle the situation perfectly.
Orange Power
On the first official day on Friday, Émilien Denner confirmed his very high level of performance when he was fastest in the last Free Practice session on slick tyres, before taking pole position on rain tyres. He followed this up with wins in the first two heats, each time setting the fastest lap. He retained his lead in the heats and then won the Prefinal ahead of his team-mate Senna Van Walstijn.
In turn, the Frenchman and the Dutchman demonstrated their superiority in the Final. Unfortunately, Denner had to retire after a collision, but Van Walstijn made the difference against tough competition. The Sodikart brand and its partner CPB Sport were also pleased with the performances of Matteo Spirgel, Thomas Imbourg and Jean Nomblot, who finished 6th, 7th and 8th respectively.
"This is an important victory, as it shows that Sodikart can always be counted on in the major international events, while also confirming the positive effects of the continuous work we are doing to develop our equipment," commented Mansel Smith, the team manager. "We also have two talented and complementary drivers. In OK, I'm pleased with our competitiveness. Fresh from Junior, Nathan Tye and Adam Hideg were very fast in the Final and both gained many places, especially Nathan who came 4th after starting 21st!"
Press Release © Sodikart