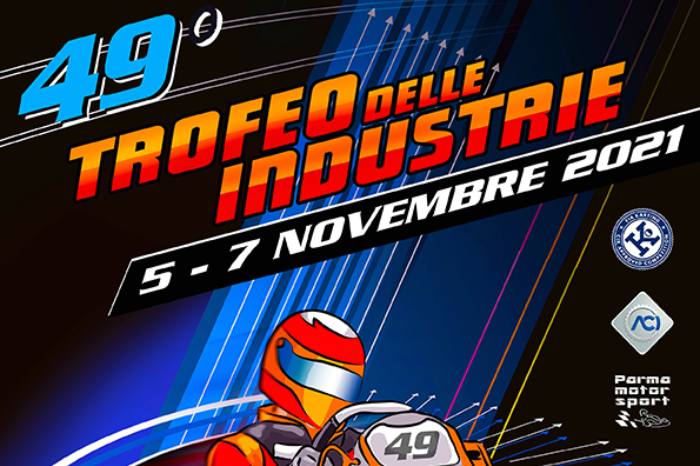 The Trofeo delle Industrie is back with its 49th edition organized by Parma Motorsport at the South Garda Karting circuit of Lonato. The final stages will be available in Live Streaming on Sunday, November 7th.
The 49th Trofeo delle Industrie is at the "starting blocks". The oldest international karting race will be underway at the South Garda Karting Circuit of Lonato from November 5 to 7. The race has always been organized by Parma Motorsport since 1971.
Participation record.
The 49th Trofeo delle Industrie set another participation record as 284 drivers from 36 nations are due to join Lonato to contest the 5 entitled categories: MINI Gr.3, OKJ, KZ2, X30 Junior and X30 Senior. A lot of champions will be present and will give their best to put their name in the incredible Hall of Fame of the event that in the previous 48 editions has crowned very strong drivers, which climbed up the motorsport ladder all the way to Formula 1. This tradition continues and places in the right and prestigious context the event and its participants, from the very young rookies to the most credited international karting drivers of the higher categories that will fight again for victory in each category and for the overall Memorial Carlo Fabi Trophy.
One of the most prestigious Hall of Fames in the world since 1971.
The first driver to add his name to the Hall of Fame of this prestigious event winning the first Memorial Carlo Fabi was Gabriele Gorini in 1971. A lot of big names followed him, among these, Corrado Fabi in 1973, Ivan Capelli in 1978, Stefano Modena in 1981, Davide Forè in 1989 and 2013, Giancarlo Fisichella in 1990, Alessandro Piccini from 1992 to 1994 and, more recently, Daniil Kvyat in 2008, Dexter Patterson in 2017. The most recent winner of the Trofeo delle Industrie was Lorenzo Giannoni in 2019, as the 2020 edition was not held due to the world pandemic.
Live Streaming on Sunday, November 7th.
After qualifying practice on Friday, November 5th, the event will continue with qualifying heats on Saturday and the Final stages on Sunday. These will be available live through the Live Streaming feed from www.trofeodelleindustrie.it/ and Facebook.
For more information please visit www.trofeodelleindustrie.it/
Press Release © Parma Motorsport