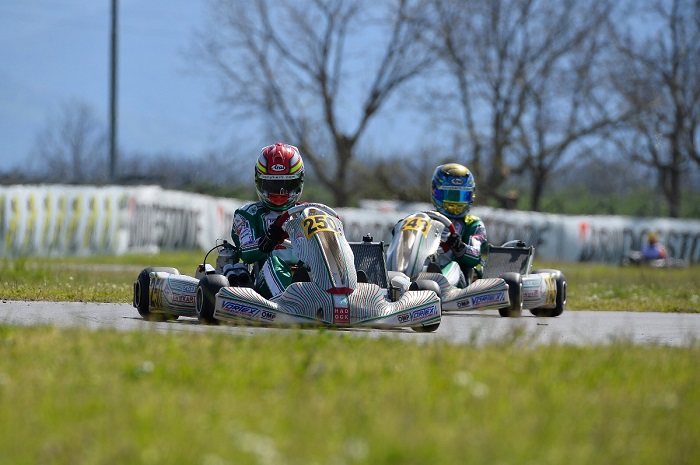 During the weekend, spotlight on the International Naples Circuit of Sarno, for the first round (out of four) of the CIK-FIA European Championship & the CIK-FIA European Junior Championship 2018
The Tony Kart Racing Team is ready to fight, getting on track for the third consecutive international karting weekend, on the International Naples circuit of Sarno. Hosting the first round (out of four) of the CIK-FIA European Championships 2018 reserved to single-speed OK and OKJ categories, it will still be, in fact, the same track on which Marco Ardigò has recently graduated WSK Super Master Series champion, on the weekend of April 19th– 22nd.
The Italian Kart Grand Prix is a very popular event, with our drivers more determined than ever: in OK class David Vidales and Noah Milell will have the task of immediately entering the fight for the victory, relying on highly performing material and starting from the excellent results obtained in the final stages of the WSK series.
Among the youngest drivers, our team's drivers called to bring the Vortex-powered Tony Kart Racer 401Schassis on track will be Laurens Van Hoepen, Josep Maria Martì and Sebastian Montoya. Target: gain experience, grow in a very competitive environment and exploit the excellent potential shown in the races run so far.
The first stage of the CIK-FIA European Championship & CIK-FIA European Junior Championship 2018, scheduled at the International Naples Circuit of Sarno, can be followed from the free practice of Friday through the live timing service available on the http://www.apex-timing.com/live-timing/cik-fia/index.htmlwebsite. The qualifying heats and the finals on Sunday will be broadcast live streaming on the official http://www.cikfia.tv/website
Timetable:
Thursday 19thApril: Briefing, technical and sporting checks
Friday 20thApril: Official free practice, Chrono Timings
Saturday 21stApril: Warm-up, Eliminatory Heats
Sunday 1stApril:Warm-up, Eliminatory Heats, Finals