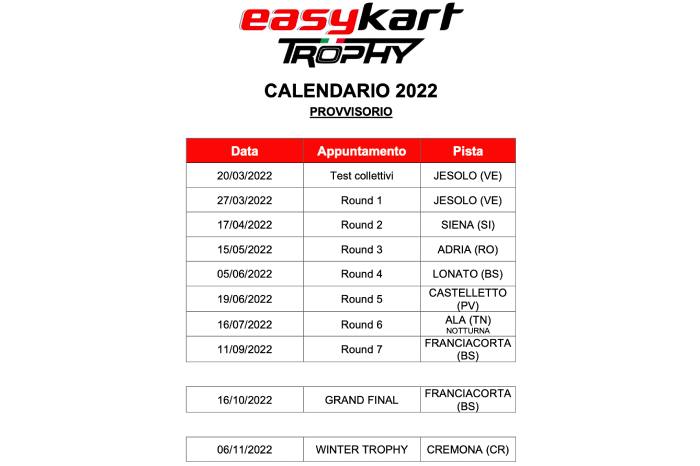 [translated with Google]
Following the ACI SPORT meeting last Friday, the provisional updated calendar of the 2022 Easykart season is announced. As reported in the attached PDF, the number of rounds, the tracks and the order of the appointments remain unchanged, but some dates change: the Adria challenge is postponed to May 15, while the Castelletto and Ala races are brought forward respectively to June 19th and July 17th. The International Grand Final is scheduled for the weekend of October 16. All other dates remain unchanged.
The management reminds that the calendar is provisional and, as such, both the dates and the locations could undergo further changes.
With the press release no. 1 of 06 December 2021, Easykart Italy also announced all the technical innovations for the next season regarding the new Easykart 2022 models.
In the Easykart 60 and 60 Academy categories, the new karts will be equipped with the KG MK20 front fairing and front number plate and FREELINE MINI EVO side fairings. The supports of the side fairings and the brackets for fixing the new number plate will also be changed. The new L28C-Y chassis will be introduced, which will present a variation of the site of the supports of the side fairings to allow the assembly of the fairings.
The new Easykart 100 and 125 will be equipped, instead, with the KG 507 front fairing.
The technical innovations introduced will not entail the obligation to update the 2021 and previous models: therefore, the previous versions of the front fairings provided for in the technical regulations of the 2021 Easykart Trophy can be used for the 2022 season and for the following years.
More details can be found in the attached press release.
See you on the track. Stay racing, stay happy… and think Easy!
Press Release © Easykart