In the final, the Brazilian unexpectedly overturns the result of the pre-final.

Tires: LeCont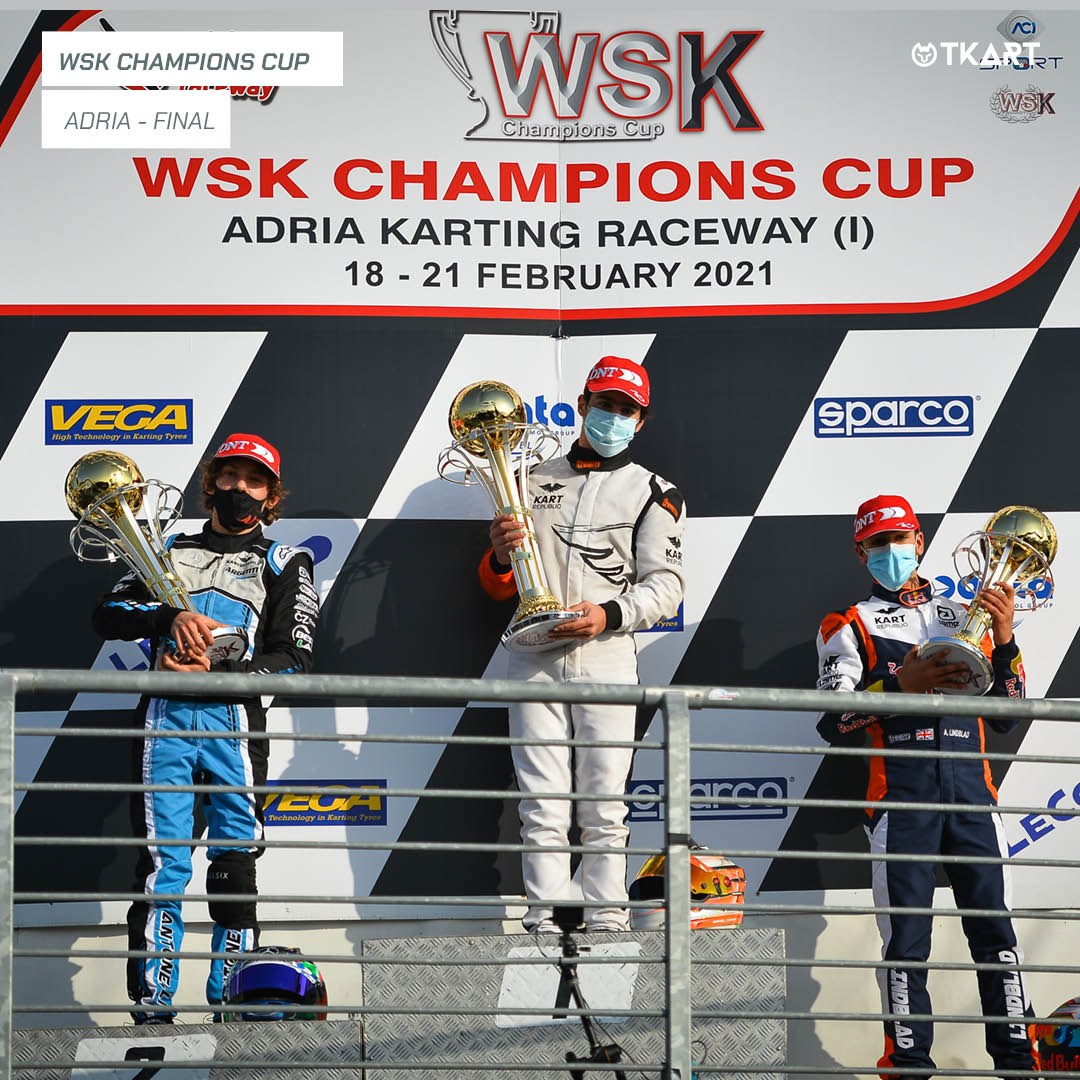 Around halfway through the race, when the advantage of Andrea Kimi Antonelli (KR Motorsport – KR – IAME) over his most direct opponent, Rafael Camara (KR Motorsport – KR – IAME), comes close to a second, the race seems to be over, at least for regarding the first two positions. In the second part of the race, however, Camara began to make up ground on an Antonelli a little more in difficulty, so much so that he took the first position 4 laps from the end. Enough for the Brazilian to win the WSK Champions Cup title.

Antonelli therefore has to "settle" for second place with a tenth of a gap, which is not a bad result given that this race in Adria represented the return to racing for Kimi, after the fracture of his leg suffered at the 2020 World Championship in Portimao. Surely something did not work in the final as in the pre-final, a race in which Antonelli won, right in front of Camara, starting from eighth position.

Third place for a real rookie, Arvid Lindblad (KR Motorsport – KR – IAME) who celebrates his recent entry into the Red Bull Junior Team with his first podium in OK. For the Englishman there is also the double satisfaction of having set the best time of the event and having reached the podium even if starting from seventh place.

Tuukka Taponen (Tony Kart Racing Team – Tony Kart – Vortex), after a not very happy start that sees him move from sixth to eighth position, moves up until closing at the foot of the podium, in fourth position.

The race of Artem Severiukin (Ward Racing – Tony Kart – Vortex) was equally beautiful, starting from twelfth position and recovering up to fifth place, followed by Ugo Ugochukwu (Sauber Orlen Karting Team – KR – IAME) who started second and at the beginning he is also on the line for third place, but then loses ground and finishes sixth.

Spectacular 360 of Joseph Turney (Tony Kart Racing Team – Tony Kart – Vortex) who, in battle for fourth place with Lindblad, touches him, makes a complete spin but immediately resumes two positions further back: he closes seventh.

Completing the top ten, from eighth to tenth position, Nikola Tsolov (DPK Racing – KR – IAME), Brando Badoer (KR Motorsport – KR – IAME) and Norton Andreasson (Ward Racing – Tony Kart – Vortex), ahead of Karol Pasiewicz (Kidix – KR – IAME), author of the best lap of the final.