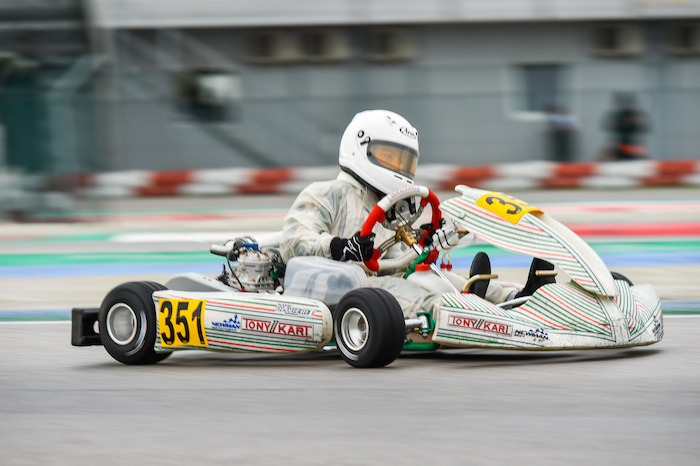 [translated with Google Translate]
In a weekend heavily affected by bad weather and the rain that put a strain on the over 220 registered drivers, the Cesena team led by Andrea Pedrini was among the protagonists with Tony Kart material in the selective OKJ category, composed of 68 members, with 7 pilots (Flavio Olivieri, Andrea Filaferro, Rocco Mazzola, Ferdinando D'Auria, Alessandro Silvaggi, Vincenzo Scarpetta and Andrej Petrovic) and 60 MINI with 4 bearers (Davide Larini, Giacomo Pedrini, Patric Fraboni and Petar Bogatovski) in a grid that has 96 young karting players between 10 and 12 years old challenge each other
Flavio Olivieri gives NEWMAN Motorsport access to the Final, which ended in the 31st place, after having shown up in the 3 elimination rounds ended in the fourteenth, thirteenth and twelfth position with 21 positions recovered. Without the unfortunate epilogue in the last session the marching roll could be even more important.
Andrea Filaferro was also in evidence that, after a difficult qualifying, in the preliminary heats he exalted the public with over 30 positions recovered, of which 10 and 16 overtakes in the arc of the twelve laps respectively in the last two heats. Final touched by Rocco Mazzola who in qualifying, with a time of 1.07.612, had marked the best match among the team mates. A penalty of 5 "in the pre-final due to the release of the nose during the brawl, denied him access after crossing the finish line in seventeenth place. Positive debut with NEWMAN Motorsport colors also for Ferdinando D'Auria, author of a constant weekend.
"We are approaching the end of a season full of results with a new Final in the international arena. I have to congratulate all the WSK staff who once again were able to build an event of the highest level by recalling all the most important builders, teams and drivers on the world karting scene. Our riders were in evidence, especially in the elimination rounds of races in dry track conditions, continuing their growth path even in the rain, where the experience reigns supreme. For us it has been a year of great growth and I have to thank all the drivers who have raced with us. Now the appointments of Zuera await us with the Champions Cup and then the Senna Trophy in Sarno. Then we will begin to lay the foundations for 2020. "analyzes the team manager Andrea Pedrini.
Among the MINIs, Davide Larini and Giacomo Pedrini conquered the Prefinal with Patrik Fraboni and Petar Bogatovski who paid dearly for an unlucky qualification.
On Saturday, Gian Carlo Minardi also went to the tent in the tent to greet all the young boys in the role of Supervisor of the ACI Sport Federal School "Michele Alboreto", as well as Chairman of the Speed ​​Circuit Commission.
From 5 to 8 December a new international appointment for NEWMAN Motorsport that will fly to Spain, on the Zuera track, for the XIX edition of the Champions Cup with Flavio Olivieri and Ferdinando D'Auria in OKJ and, the following weekend, on the Sarno track on the occasion of the Ayrton Senna Trophy.
Pics: Sportinphoto.it