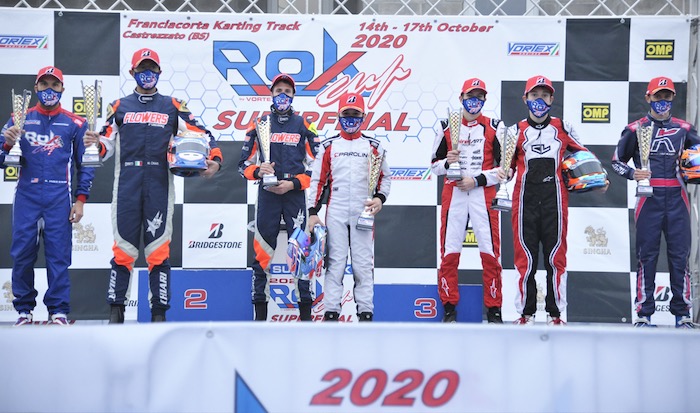 After the sporting checks and all administrative procedures, the 17thedition of the Rok Sup Superfinal is now reaching the heart of the race, despite the rain on the Franciacorta Kart Track.
At the end of all free practices' sessions, the 261 Rokkers coming from all over the world ran the Qualifying Heats, taking place on wet track.
The day has ended with the prizegiving ceremony for the authors of pole positions.
In the entry list, there are 12 Superfinal champions and two of them won the Superfinal twice. They are:Zani (Super Rok 2012 and 2011), (Shifter 2018 and Junior 2017), Zemin (Shifter 2018), Bosco D'Abramo (Super 2017), Cicognini (Super 2019), Comanducci (Senior 2019), Machado (Super 2018), Prokscha (Expert 2019), Zajac (Expert 2018), Chiari (Expert Plus 2018), Baselli (Expert Plus 2019), Federici (Junior Rok).
QUALIFYING HEATS.
SHIFTER.The Shifter Rok is the class opening the Qualifying Heats of 2020 Superfinal. There is a big brawl at the starting line and the Pole Liwinski is the one who makes it leaving Fontana (ITA), Nadolski (POL), Vita (ITA), Hold (AUS) behind. The fifth and sixth positions are for the two Superfinal champions, Zemin and Bosco.
MINI ROK.Sorensen is unreachable in the rain and with 1.07.275 he centers an amazing wet pole. Przyrowski (POL), Tarvanichkul (THA), Slater (GBR), Matveev (RUS) and Peebles (AUS) are immediately behind the American, making up a highly international line-up.
JUNIOR ROK.In the Junior class as well, there is an international line-up at the top positions with the British Macintyre, who overtakes his opponents led by Deligny (USA), Cui (CHI), Douglas (GBR) and Scognamiglio (ITA).
SENIOR ROK. The Italian Demartis is in between the Pole Jakub and Marcin Zajac, first and third respectively. The top 5 is completed by Barlow (GBR) and Bernardi.
SUPER ROK. The current champion Cicognini takes the pole, while Shaw (GBR) is immediately behind him with Muller (CHE), Chiari (ITA) and Hutton (NZL).
EXPERT ROK E EXPERT PLUS.Jader centers the pole of the Expert ahead of the current champion of Expert Plus Chiari.