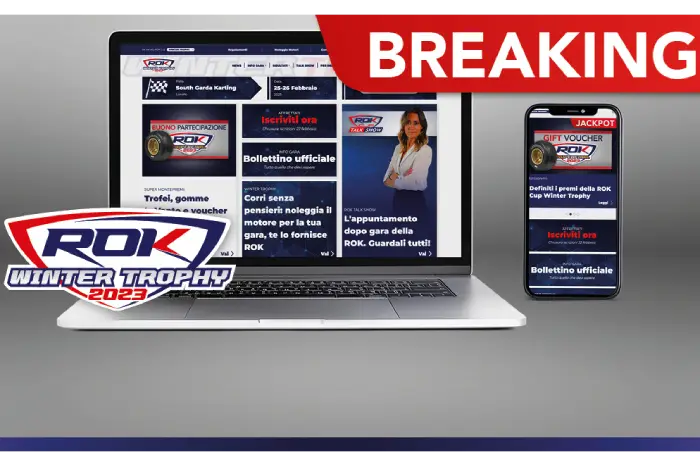 The 2023 edition of the ROK Winter Trophy (scheduled on February 25-26 at South Garda Karting in Lonato – BS) brings with it also the introduction of the new website specifically dedicated to the race. This is the first site of the ROK branded web universe to be interested by a complete restyling in line with the rebranding introduced in December 2021.
The change relating to the new site is not just aesthetic, but also in terms of contents: wintertrophy.rokcup.com indeed will be the only web address that the participants or those interested in the competition should check to have all useful information, in order to have just one reference point where to find all services that ROK offers with reference to the ROK Cup Winter Trophy before, during and after the event.
So, you can find information (in two languages, Italian/English) relating to the registration, practical and detailed notes of the "official informative report", the regulations applied. But not only, since on the wintertrophy.rokcup.com website there will be available the results of all race editions, the palmarès with the champions category by category, as well as the "live streaming" and "live timing" services, during the two-day competition.
And after the event? Always thanks to the website wintertrophy.rokcup.com, the enthusiasts will enjoy the best of the race in the photo galleries and the usual ROK post-race insights, hosted by the Sky Sport F1 journalist, Mara Sangiorgio: the ROK Talk Show.
As mentioned above, that of the ROK Winter Trophy is only the first of the ROK sites to be interested by a complete restyling. Indeed, all sites of the ROK universe will be updated in sequence, starting from the 22 national portals (ROK Cup Italia, ROK Cup USA, etc.) to which the Rokkers will be able to refer, both to get all the information about the series in their own countries and to receive news about "one-shot" events, to be further reviewed in the specific sites (ROK Cup Winter Trophy, indeed, but also ROK Cup Superfinal, ROK Cup Euro Trophy, etc.).
The new ROK Cup Winter Trophy website can be found at the following addresses:
Press Release © OTK Kart Group