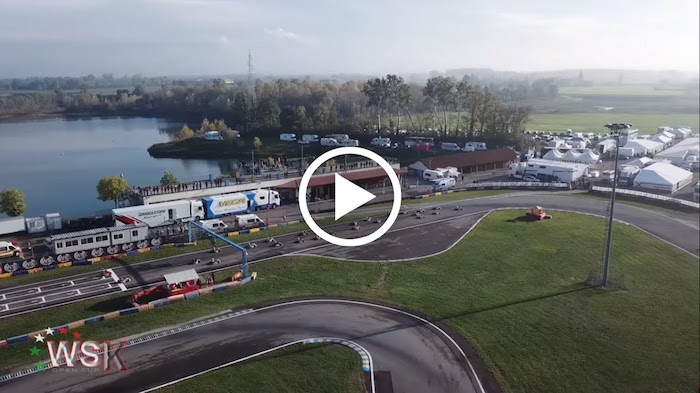 WSK Open Cup, 2nd round
The race to the finish line of Castelletto.
Settelaghi Kart, Castelletto di Branduzzo (I), November 7th – 10th, 2019
The recap of the event at Castelletto.
The story of the 2nd and conclusive round of the WSK Open Cup is on video. The recap of last weekend at the Settelaghi Kart has been uploaded into the Video Library of the WSK's Facebook fan page. Have a look to the WSK Promotion's Open Cup at its finish line of the Castelletto's circuit. Click on the buttons and enjoy the event!
Video clips from Castelletto
Friday's recap
WSK Open Cup – Friday's Highlights

Qualifying on a drying track and then, finally the sun came out to shine for the first heats raced today at the WSK Open Cup. Check out today's highlights from Castelletto di Branduzzo, south of Milan.

Posted by WSK Promotion on Friday, 8 November 2019
Saturday's recap
Action at 7 Laghi Kart
Eliminatory Heats starting form 14.30 (GMT +1) Who can beat the polemans Dilano Van't Hoff in OK, Calle Bergman in OKJunior and Luis Iglesias in Mini60

Posted by WSK Promotion on Friday, 8 November 2019
Battles in the Fog
The weather may be cold here at Castelletto, but the action on track is red hot!

Posted by WSK Promotion on Saturday, 9 November 2019