Andrea Antonelli was one of the favorites to win the WSK Euro Series but the Italian just smashed his pace in the Adria Karting Raceway to win the final and the Euro Championship ahead of title rival, Thomas Ten Brinke.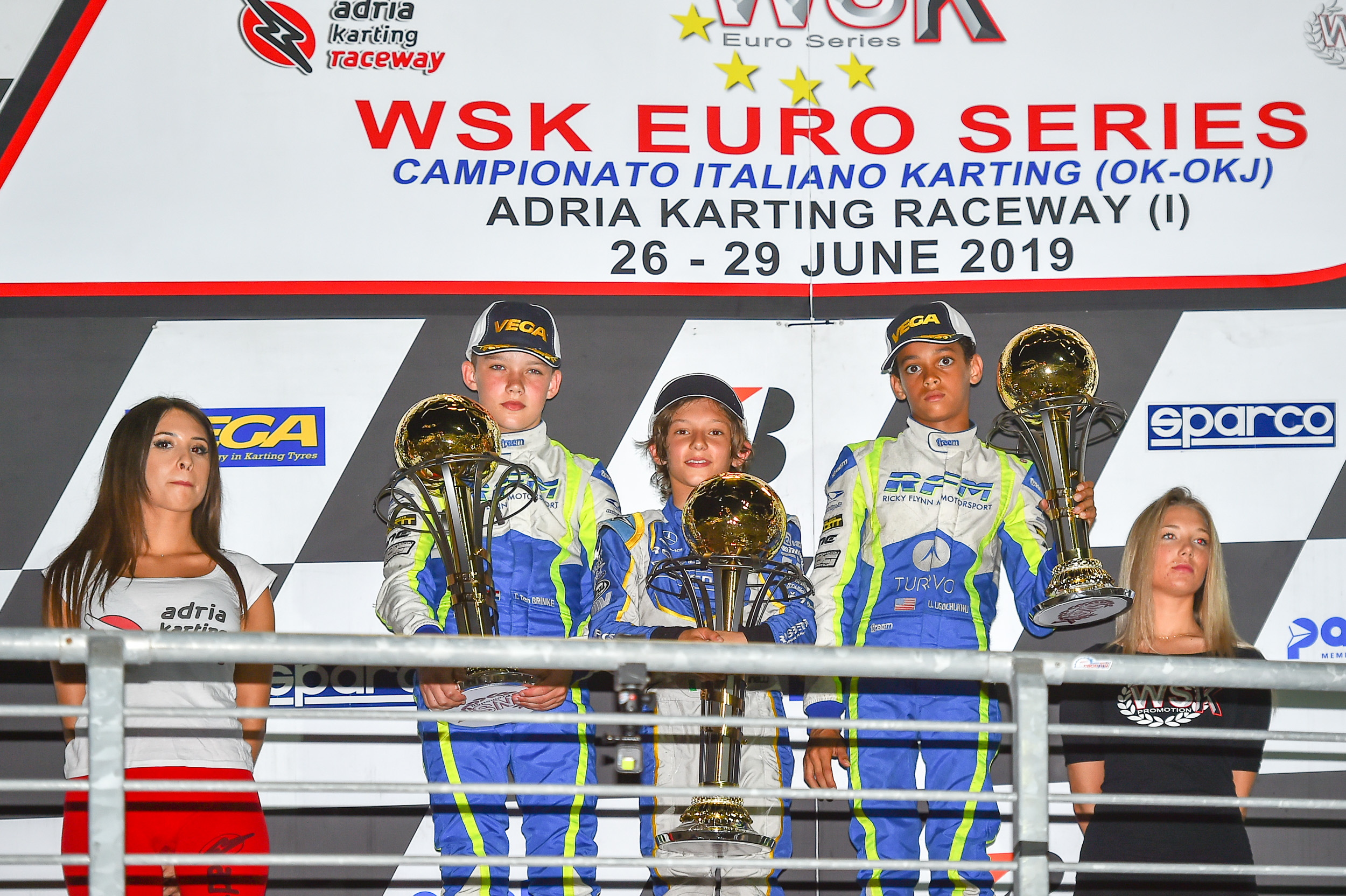 The first prefinal of the day already showed how the thing were going to be throughout the day. In prefinal A, Andrea Kimi Antonelli (KR/Iame/Vega) immediately pulled away from the race pack. Andrea Spina (KR/Iame/Vega) tried to follow him but it was impossible.
Meanwhile, Thomas Ten Brinke (FA Kart/Vortex/Vega) who was the rival of Antonelli for the championship hunt, lost a lot of time fighting with his teammate Ugo Ugochukwu (FA Kart/Vortex/Vega) and only managed to finish third, losing 20 points with Antonelli.
Then in prefinal B, Alex Dunne (Tony Kart/Vortex/Vega) surprised everyone with a very quick start that allowed him to win the race despite he was caught by Laurens Van Hoepen (FA Kart/Vortex/Vega) and Akshay Bohra (KR/Iame/Vega) at the end of the race.
It was a prefinal with many crashes, 7 retirements overall with the front runners James Wharton (FA Kart/Vortex/vega) Maxwell Dodds (KR/Iame/Vega) or William Siverholm (Tony Kart/Vortex/Vega) been involved in the incidents.
So, they were the favorites for prefinal B, that finished in hands of James Wharton, as Dodds finished second and Karol Pasiewicz (Luxor/LKE/Vega) third, with the Polish driver leading most of the race.
In the final, Andrea Kimi Antonelli sealed the championship and the race at the start. The Rosberg Racing Academy driver was already 1.7 seconds ahead of Alfio Spina.
So, there was not much to do for Thomas Ten Brinke who comeback to second place and finished as the runner-up of WSK Euro Series, with Antonelli wining once again the Dane driver like he did already in the WSK Super Masters. Ugo Ugochukwu completed the podium after defending from Laurens Van Hoepen (FA Kart/Vortex/Vega).
Also, in the final there has been a lot of accidents. The main one happened with two laps remaining with Alex Dunne, Jamie Day (Exprit/Vortex/Vega) and Brando Badoer (Parolin/TM Racing/Vega) involved.
Antonelli not only won the WSK Euro Series, he also has became Italian championship of OKJ, with Ten Brinke finishing as the runner-up.
Adria Final Results
Championship Results
Il podio del Campionato WSK Euro Series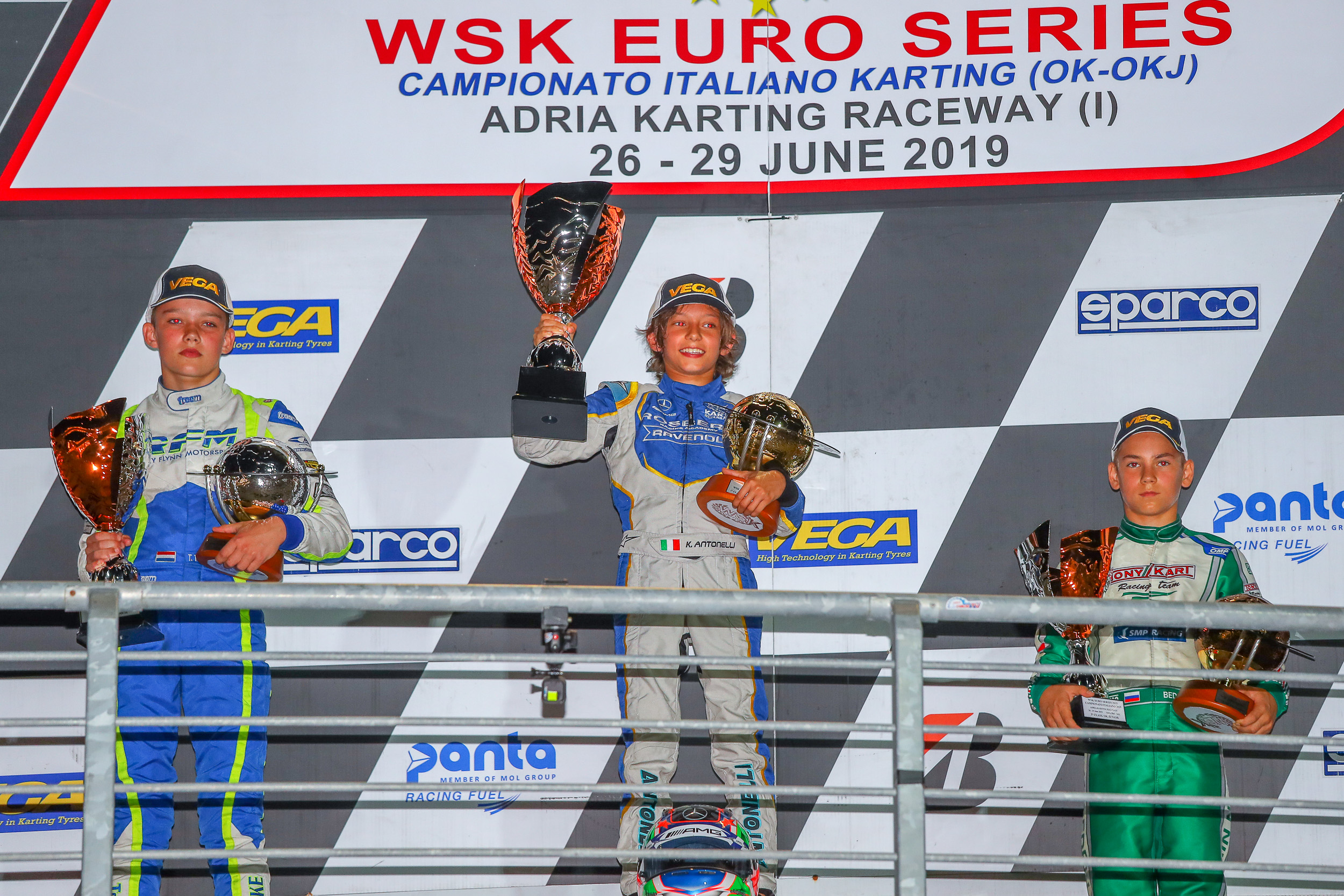 [embed] https://youtu.be/RZzHZ0AonT4 [/embed]
[embed] https://youtu.be/-tXXn_Fg6ew [/embed]
[embed] https://youtu.be/cNm8-TdG91k [/embed]
[embed] https://youtu.be/cRiCIdTFTxw [/embed]
PH: Sportinphoto