The Emirates Group Karting Club (EGKC) traded one title for another as one of their two teams, Emirates Racing (#8), claimed its first Pro Championship on Saturday (14 December) during the final round of the Dubai Kartdrome Endurance Championship Powered by Motorsport Wheels, while its sister squad, Team Emirates (#9), fell short in a close championship battle with LD Russia (#18) for the 2019 Corporate crown.
After 1049 gruelling laps on the demanding Monaco circuit configuration at Dubai Kartdrome and 24 hours of endurance racing, Arjun Manjunath crossed the finish line three laps ahead of rival Bin Drai Karting Team to take the Round Four victory for Emirates Racing and claim the 2019 Pro Championship.
[caption id="attachment_256348" align="aligncenter" width="570"]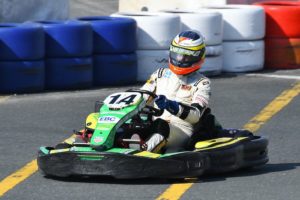 Pedro de la Rosa di FA Racing (#14)[/caption]
It was a hard-fought campaign over four rounds against defending champion Bin Drai Karting Team but Emirates Racing, with drivers Arjun Manjunath, Romaldo Labrooy, Ramez Azzam and Tom Bale, thrived on the challenge.
EGKC Team Principal Redza Jamil said, "We feel the hype every time we come here. Everyone's in a good mood and it's just a friendly racing environment, which is why we're here. We're here for fun and that's what we're getting."
[caption id="attachment_256345" align="aligncenter" width="570"]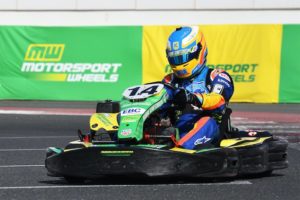 Fernando Alonso in pole position per FA Racing (#14) al Dubai Kartdrome[/caption]
Dmitry Levin, Konstantin Mandrikov, Victor Agafanov and Marat Gubaidullin of LD Russia also enjoyed their visit to Dubai. The all-Russian outfit placed seventh overall in the final round, which was just enough to topple defending Corporate champion, Team Emirates, and take home the 2019 Corporate Crown.
The Russian drivers may have to pack a bigger suitcase for the flight home, as they also secured the 2019 Nations Cup by beating out Saudi squad, Seven Racing (#19). LD Russia now has an Endurance Championship record of three Nations Cup titles (2016, 2018, 2019).
[caption id="attachment_256342" align="aligncenter" width="570"]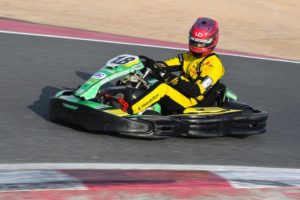 Konstantin Mandrikov, campione Corporate e Nations Cup Champion con LD Russia (#18)[/caption]
LD Russia Team Manager Kirill Chebanov said, "We have tears for this win; it's wonderful."
However, the top Nations Cup team for Round Four was not Russian but Spanish, led by two-time Formula One World Champion Fernando Alonso.
All-star Iberian visitors FA Racing (#14) with drivers Fernando Alonso, Pedro de le Rosa, Alberto Albilares and Ángel Burgueño, impressed the local teams by taking pole position and then finishing third-place overall. They won the Nations Cup category for Round Four and placed third in the championship.
After collecting five trophies (Fastest Lap, 1st Nations Cup RD4, 3rd Overall RD4, 3rd Pro RD4 and 3rd 2019 Nations Cup Championship) for FA Racing, Alonso said, "It was a fantastic experience. I love this race, I love the place."
[caption id="attachment_256339" align="aligncenter" width="570"]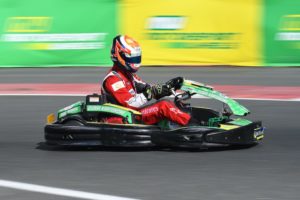 Ramez Azzam di Pro Champion Emirates Racing (#8)[/caption]
"Amazing teammates and amazing fun during the 24 hours. Not much sleep but we're here to drive, and a wonderful experience and looking forward to next year."
Dubai Kartdrome Manager David Bright said, "Fernando Alonso and his friends of FA Racing definitely had their chances to win Round Four overall and they did well to finish third and take home the Nations Cup. Alonso also claimed Pole Position and the Fastest Lap with a record-setting time of 1:14.839 on the Monaco circuit."
"The team spirit and professionalism of FA Racing was inspiring to everyone and we look forward to having them back next year."
[caption id="attachment_256336" align="aligncenter" width="570"]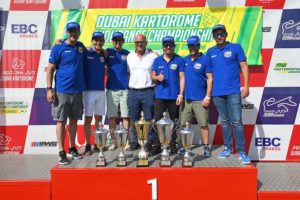 Fernando Alonso e FA Racing vincono 5 trofei[/caption]
###
About the Dubai Kartdrome Endurance Championship
Since 2005 teams from around the world have come to Dubai to challenge this extreme endurance race series. Each round of karting is as tough as it gets, requiring tremendous stamina, speed, concentration and team work simply to finish a race, which can take 12 or 24 continuous hours.
The championship is run over four rounds, which each round having a different objective. Round One is 12 hours of endurance racing, Round Two goes for 600 laps and Round 3 is run for 700 kilometres. Round Four is the grand finale, pushing teams for a grueling 24 hours on track.
There are two main categories of racing, Pro and Corporate, as well as a Nations Cup for teams with drivers of all one nationality.
About Dubai Kartdrome Outdoor Circuit
The 1.2km International Circuit at the Dubai Kartdrome features 17 corners to test a driver's skills, as well as a tunnel and bridge to add to the excitement. This challenging configuration affords maximum safety to all drivers and spectators and is equipped with a complete set of flood lights to offer perfect viewing for night time racing.
Since 2004 the venue has hosted many local and international karting races, as well as offering corporate events and Arrive & Drive karting for guests.