Entries are now being accepted on www.wsk.it for the final three WSK events of the year in what promises to be an electrifying end to the season.
The final part of the 2019 Season is rapidly approaching with traditional end of year events organised as ever, by WSK Promotion. Starting with the WSK Open Cup which this year will be held over 2 rounds; at the circuit of South Garda Karting at Lonato near Brescia  from the 24th to the 27th of October and then at the 7 Laghi Circuit of Castelletto di Branduzzo, near Pavia, from the 7th to the 10th of November. The Grand Finale of the season will once again be held at Adria Karting Raceway from the 14th to the 17th of November which will of course be the single race WSK Final Cup. Entries are now being accepted for the WSK Open Cup with the entry procedure now active and online on the official site www.wsk.it.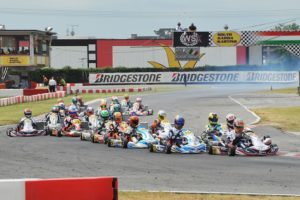 The WSK Open Cup is ready to race
Held over two weekends, the WSK Open Cup will see the Series Winners crowned with an ever increasing, incremental pointscore system, with a major proportion of the series points awarded at the second round at Castelletto. For each round, points will be awarded for the qualifying heats on Saturday and the results of Sunday's Prefinals and Finals, without dropped points. Tech specs sees Bridgestone as official tyre supplier for the KZ2 and OK Categories with their Prime tyre whilst Vega will supply both OK Junior (in this case with their Option Compound) and 60 Mini. Specialist fuel supplier Panta will act as official fuel supplier.