OKJ
Exactly one third part of participants chooses Vortex engines: 22 out of 66 drivers. In the qualifiying heats, very tight, our engines are in the top positions thanks to Ugo Ugochukwu (Ricky Flynn Motorsport), Nikita Bedrin(Tony Kart Racing Team) and Sztuka Kacper(Speedkart).
The latter is also the author of a victory in the Eliminatory Heats, where Vortex engines continue to be protagonists: to the victory gained by Kacper, actually, we can also attend the two victories of Thomas Ten Brinke(Ricky Flynn Motorsport), two second places done by James Wharton(Ricky Flynn Motorsport) and third places always by Wharton, Josep Maria Martì (Tony Kart Racing Team) and Ugochukwu.
Besides these good placings, they also center 5 best laps throughout all the Heats.
The drivers powered by Vortex DJT fight for the top positions also in Prefinals, where, in total, they gain 8 placings in top10 together with the victory in Prefinal B conquered by Nikita Bedrin (Tony Kart Racing Team). The latter closes the Final in third position behind Thomas Ten Brinke (Ricky Flynn Motorsport), whose comeback of 21 positionsis definitely one of the highlights of the whole weekend.
To further enrich the positive weekend of our engines, we also have to mention the best lap in the Final signed by Jamie Day (Lennox Racing Team).

[caption id="attachment_174314" align="aligncenter" width="550"]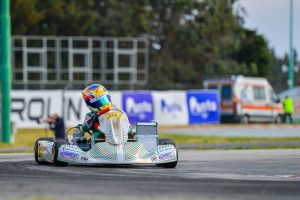 Nikita Bedrin[/caption]

OK
With 16 out of a total of 38 registered drivfers, the presence of Vortex in OK is around 42%.Among them, three are in top ten at the end of the qualifying heats: Noah Milelland Joseph Turney (both Tony Kart Racing Team) are fourth and ninth while Harry Thompson(Ricky Flynn Motorsport) is sixth.
Thompson is also the driver who, with two third and one fifth places, leads the series of good placings of our engines in the eliminatory heats: besides his results, alsoDino Beganovic (Ward Racing, a fourth and a sixth place), Joseph Turney(fourth and fifth) and Noah MIlell(fifth and sixth) had brilliant performances.
Turney, author of the best lap in the heats, gains the fourth position in a prefinal and, with a fifth place, he also leads the group of 13 drivers powered by DST engine in Final.
Here, also these drivers come in top10: Dino Beganovic (seventh), Matheus Morgatto(Tony Kart Racing Team, eighth) and Small Kirill(Ward Racing), tenth after a fantastic comeback of 24 positions.

[caption id="attachment_174311" align="aligncenter" width="550"]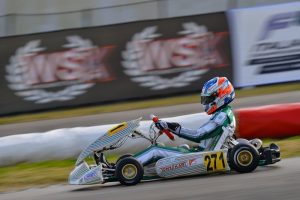 Joseph Turney[/caption]