[Translated with Google]
Tyres: Vega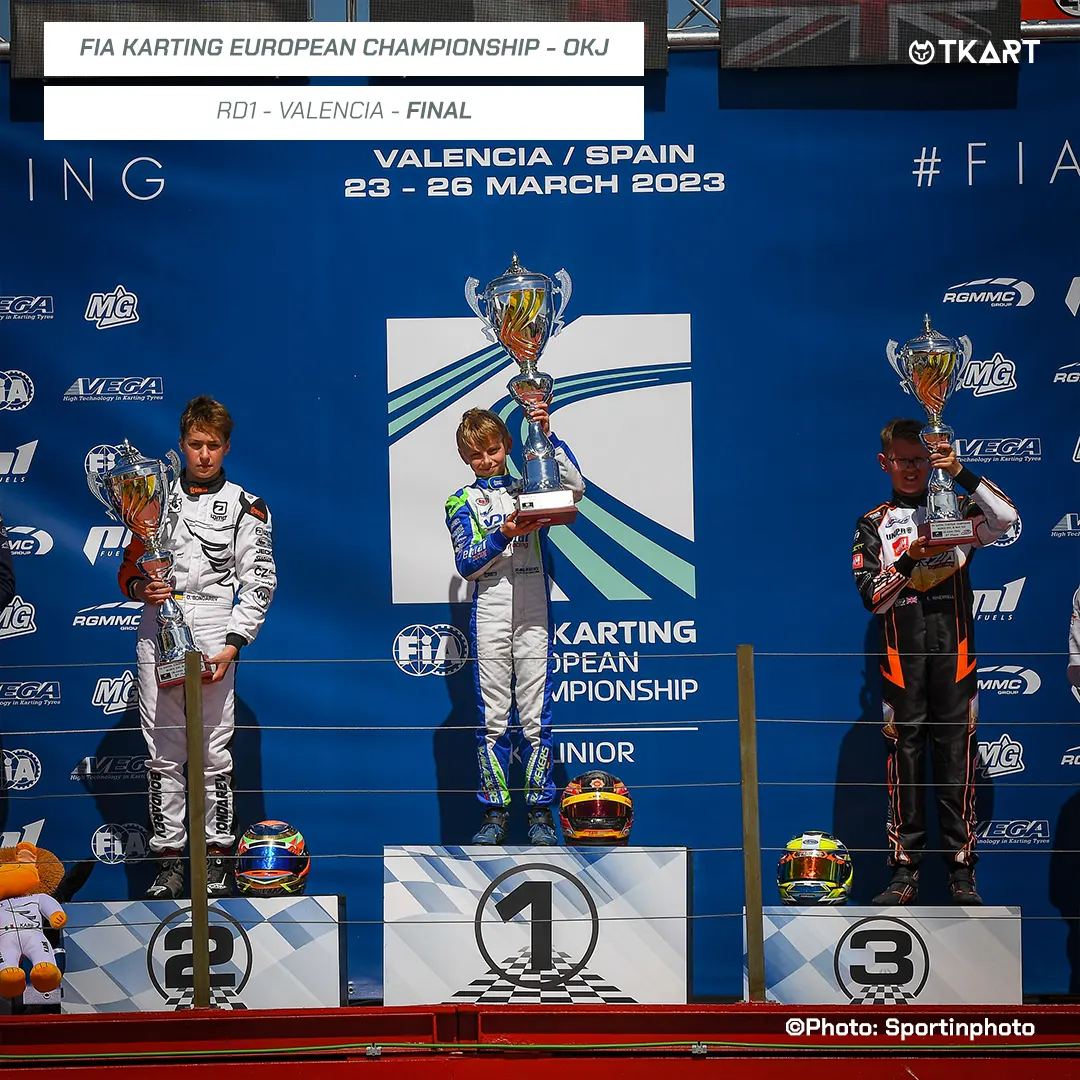 Another extraordinary performance by Thibaut Ramaekers (VDK Racing – KR – IAME). The Belgian driver starts from the outside trajectory and slips from second position to fourth, but in just five laps he easily takes the lead. No one is able to keep up with his pace and the VDK Racing rider thus replicates the success achieved just two weeks ago, on the occasion of the Champions of the Future Euro Series.


Oleksandr Bondarev (KR Motorsport – KR – IAME) takes the lead in the early stages, however he has to surrender to the speed of Thibaut. The Ukrainian remained firmly in second position and contained Lewis Wherrell (Forza Racing – Exprit – TM) in the final stages. For the KR Motorsport driver it is a more than positive result, among other things one year after the accident he had on the Spanish track of Zuera.


Wherrell changes pace in the second half of the race, reaches third position and tries to catch Bondarev. The Briton is "satisfied" with the lowest step of the podium and the fastest lap in the final.


He escapes the podium finish to Taym Saleh (Sauber Academy – KR – IAME), first in qualifying and fourth on the starting grid of the final. The German finished in front of an amazing Stepan Antonov (KR Motorsport – KR – IAME), fourth after starting the weekend from the last position in qualifying. Unfortunately, the KR Motorsport driver receives a 5 second penalty for the nose in the incorrect position and climbs up to seventh.


Niklas Schaufler (DPK Racing – KR – IAME) takes home a precious fifth position, while Kian Fardin (KR Motorsport – KR – IAME) ends a positive weekend with the final sixth position. In form during the super heats, Zac Drummond (Parolin Motorsport – Parolin – TM) is eighth, followed by Davide Bottaro (Tony Kart Racing Team – Tony Kart – Vortex) in ninth position.


The leadership of poleman Elliot Kaczynski (Ward Racing – Tony Kart – Vortex) did not last long, tenth under the checkered flag. On the edge of the Top 10 we find Salim Hanna (Ricky Flynn Motorsport – LN – Vortex), 11th, Iacopo Martinese (KR Motorsport – KR – IAME), 12th, and the outsider Martin Barry-Berg (Marius Barry-Berg – Kosmic – Vortex), 13th.


Luna Fluxa Cross (Prema Racing – KR – IAME) and Kirill Dzitiev (Tony Kart Racing Team – Tony Kart – Vortex) finished 14th and 15th respectively. Instead, a contact after just three laps ended the races of Dries Van Langendonck (Energy Corse – Energy Corse – TM) and Noah Monteiro (KR Motorsport – KR – IAME).


Risultati
https://youtu.be/jDdFf3RBrWs
https://youtu.be/WkfNMUsmGKo
https://www.youtube.com/watch?v=RiEG28jB4g0
https://youtu.be/PZpOjhxft0A
©Photo: Sportinphoto