The news comes as an unexpected surprise, but can oly ignite the enthusiasm of all fans, happy to know that the first edition of Karting Expò will be staged on 8 and 9 December 2018 in Adria.
The promoter of the initiative is Danilo Rossi, five-times karting world champion, currently the owner of DR Racing, who has strongly pushed for an initiative that would appeal to all those involved in karting, from amateurs to operators in the sector.
Would you like to know more? Contact Us!
To do so, he chose a well-known venue for enthusiasts: the Adria Raceway. A recent complex, well organised, with adequate space and, above all, one that will allow adding, to the premises dedicated to the stands of numerous companies (8,000 square metres taken from the Paddock, under cover), the proven karting track used for testing racing products and the Arena (another 8,000 square metres) with an indoor track for kart rental tests.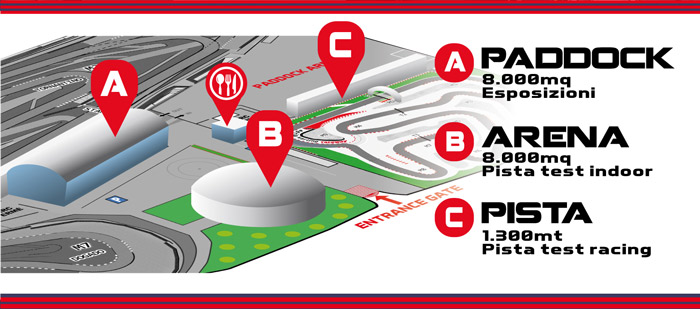 During the two days of the fair, it will be possible to experience karting in all its aspects: given the dates of the event, the stands of the companies will be able to display new karts ready for the season about to start in a few weeks. But there will also be latest generation accessories, technical clothing, data acquisition tools, helmets and airbrushes ... In short, all the varied items that revolve around karting.
Would you like to know more? Contact Us!
Furthermore, and in this case it is undoubtedly an important innovation of Adria's Karting Expò, there will be tracks that will host the product tests: kart racing will find space along the 1,300 metres of the Adria Karting Raceway; while the rental products will run inside the indoor kart track at the entrance to the Adria complex.
On this point of view come the latest news, with the presentation of the layout of the indoor track dedicated to the rental karts: a simple but functional track, with space for those who will want to watch the performance of the karts.
[gallery columns="2" link="none" ids="139802,139805"]
Also, there will be space for meetings and discussing ideas, including the halls of international fairs and the engine for new initiatives and future developments, important for the whole movement.

Would you like to know more? Contact Us!
[gallery link="none" columns="2" size="medium" ids="119144,119147"]