Unexpected by how the driver's standings looked before the final race of FIA Karting European Championship of KZ class at Sarno (Italy) but, Jorrit Pex who was probably not in the bets to take the championship title, finally managed to defend what he already won last year. Camplese won the final ahead of Lammers and Jorrit Pex.
This morning Alessandro Irlando (Birel ART/TM Racing/B'stone) won the last qualifying heat before the final that put him in front row for the starting grid. Simo Puhakka (Tony Kart/Vortex/B'stone) put himself as one of the favourite to win the final as he finished second in the last heat, a result that was enough for him to be on pole position for the final.
The final was one of those races that everyone will remember for years.
The surprises already arrived at the start of the race. Championship leader Anthony Abbasse (Sodi/TM Racing/B'stone) and provisional runner-up Matteo Viganò (Tony Kart/Vortex/B'stone) crashed together at turn 1 in the opening lap of the race.
That changed immediately the status quo of the race. Simo Puhakka was in the lead ahead of Alex Irlando with becoming provisionally the European championship at that point. But both drivers also collided on lap 2, which let Lorenzo Camplese (Tony Kart/Vortex/B'stone) take the lead of the race until the checker-flag.
Therefore, on lap 3 Camplese was leading the final and the driver's championship with 41 points, the same number than Abbasse - who was out of the race - and Bas Lammers (Sodi/TM Racing/B'stone).
Lammers was running in second place at that moment, and a race victory would mean another European championship title at his wall of fame. But the Dutch driver could not keep the gap of Italian Lorenzo Camplese who finally won the final but not the title.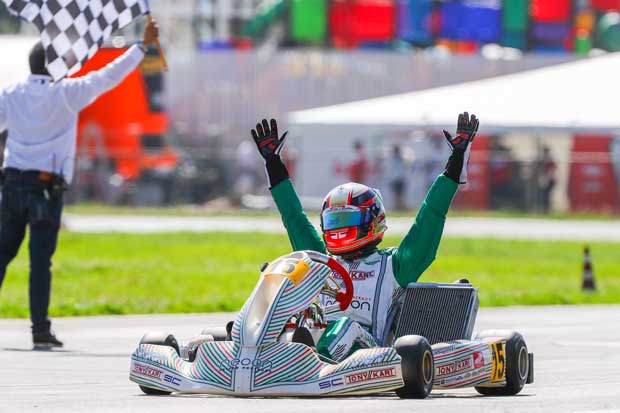 Another driver appeared as the protagonist of the day: Jorrit Pex (KR/Iame/B'stone). The Kart Republic driver was running in fourth place, just behind Marco Ardigò (Tony Kart/Vortex/B'stone). The Dutch driver only needed to overtake the Italian to become once again the KZ European championship.
The luck was good this time for Jorrit Pex who saw how Ardigò had to retire on lap 11 due to a mechanical problem. This put Pex immediately into podium positions, which allowed the Kart Republic driver to win the FIA Karting European Championship of KZ once again, by only one single point.
Jorrit Pex increases his legend in karting world. He is the first driver to put Kart Republic as KZ champion chassis, and with the European title in his bag once again, now becomes a three-times European "KZ1" champion.
[embed] https://youtu.be/NxNt-3KDVak [/embed]
[embed] https://youtu.be/BMH1CknJo8c [/embed]
[embed] https://youtu.be/tRoJpOz4Bck [/embed]
[embed] https://youtu.be/OIcsuW3rOvI [/embed]
[embed] https://youtu.be/soMmYSj2yMA [/embed]
[embed] https://youtu.be/urYfZRqxC-Q [/embed]
[embed] https://youtu.be/QW5HXPuoIgY [/embed]
PH: Sportinphoto