Emil Skaras is the new FIA Karting European champion in KZ2 class. The Swedish driver who finished eight in today's final at Sarno (Italy) had enough to become the new KZ2 European champion despite the victory of Emilien Denner who finished as championship runner-up.
In a very hot day at Naples International Circuit, this morning the starting grid for the last final of the championship had yet to be decided with the last qualifying heats.
Qualifying heats that were used to stop the domination set by David Vidales (Tony Kart/Vortex/B'stone) yesterday. The Spanish driver today was beaten by teammate Alessio Piccini in heat E-F (Tony Kart/Vortex/B'stone) but despite that, Vidales was the one who was going to start from pole position in the final.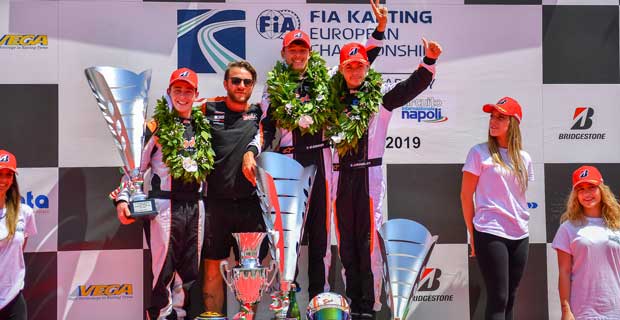 The other victories were for Senna Van Walstijn (KR/TM Racing/B'stone) and Giuseppe Palomba (Croc Promotions/TM Racing/B'stone) who were about to start in second and third place, respectively.
The Final began with a twist when a contact between Senna Van Walstijn and Giuseppe Palomba crushes the winning ambitions of both. The first had to retire after a weekend at the top in the Heats while the local star Palomba's performance was compromised by the aftermaths of the incident.
The final was mostly led by David Vidales who was keeping the pressure in the lead from the Sodi drivers, Emilien Denner (Sodi/TM Racing/B'stone) – who started fifth, Paolo Besancenz (Sodi/TM Racing/B'stone) and Jean Nomblot (Sodi/TM Racing/B'stone).
The fight between Vidales and Denner could have finished in a very bad way. Both drivers made contact at the breaking point of the back-straight, but both drivers managed to maintain the control of their kart.
Also, Besancenz had a similar contact with the Tony Kart driver who was defending his lead in a very aggressive way. But with three laps to go, an amazing overtake by Emilien Denner at the outside of the back-straight let him to take the win and the race victory.
This manoeuvre helped Skaras who finished in eight place and had enough to take the KZ2 European championship.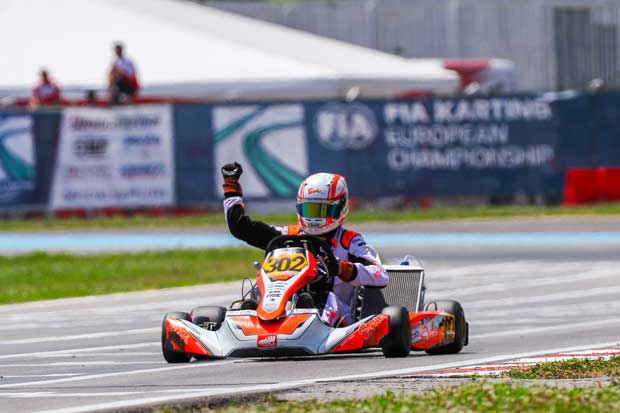 [embed] https://youtu.be/-j1eKabm1vc [/embed]
[embed] https://youtu.be/wWXAvGnJFdM [/embed]
[embed]https://www.youtube.com/watch?v=j9FAkQjTRXk[/embed]
[embed] https://youtu.be/7DRTDOkSWo8 [/embed]
[embed] https://youtu.be/X9E0jFPc1Tc [/embed]
[embed] https://youtu.be/VqcEzkR-MOc [/embed]
[embed] https://youtu.be/ZTWPzyuvk0I [/embed]
PH: Sportinphoto