Challenges are not to be missed at WSK Euro Series in Lonato.
Nobody wants to miss the fights that are being prepared at the South Garda Karting circuit in Lonato (I), that is gearing up for the third and penultimate round of WSK Euro Series. The provisional entry list confirms this and such an important weekend of International Karting counts 316 drivers coming from the five Continents. These great figures give an indication of how sought after this win is for the series organized by WSK Promotion. The games in the classification are quite open still ahead of the fourth and closing round that will take place at the circuit of Adria (I) this week.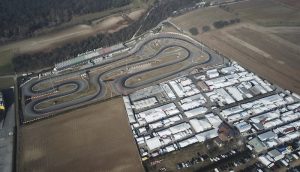 All the WSK titles up for grabs.
The 316 drivers entered in Lonato will have a weekend full of chances to shine and the winner of KZ2 WSK Euro Series will be named on Sunday. The Finn Simo Puhakka (Tony Kart-Vortex-Bridgestone) is currently leading the provisional classification of this class. Classes OK, OK Junior and 60 Mini will contest their third round before the closer to take place in Adria. Lorenzo Travisanutto (KR-Iame-Bridgestone OK), the Dutch Robert De Haan (Energy-TM-Vega OK Junior) and the Brit William Macintyre (Parolin-TM-Vega 60 Mini) are leading the respective classes. A further challenge will take place in the Italian ACI Sport Karting Championship, that will see categories OK and OKJ battling out their titles in joint events with WSK Euro Series. The provisional leaders in this case are the Swede Dino Beganovic (Tony Kart-Vortex-Bridgestone) in OK and the Russian Nikita Bedrin (Tony Kart-Vortex-Vega) in OKJ.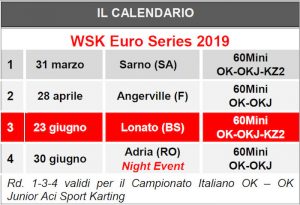 The WSK races in live streaming.
The South Garda Karting circuit (above, an aerial view of the Italian facility) will be busy with such a rich racing programme for the best part of the week that will get underway with free practice on Wednesday 19th and Thursday 20th. Qualifying practice will take place on Friday 21st and 36 heats will then follow from the afternoon and on to Saturday 22nd. The two Prefinals of each category will take place on Sunday morning starting from local 11:00 with live coverage on wsk.it and WSK Promotion's Facebook. Every race will be available live including the Finals that will take place in the afternoon from 14:30.