From 9th to 12th October, the Rok Cup Superfinal will make the South Garda Karting track the center of all challenges, emotions and records. The point of contact for thousands of Rokkers and karting fans, celebrating and running non-stop for four unforgettable days.
In Lonato hundreds of drivers coming from all over the world will challenge each other in seven categories: Mini Rok, Junior Rok, Senior Rok, Expert, Expert Plus, Super and Shifter.
Protagonists. The first drivers qualified for the race are the champions of each single National Rok Trophy. These drivers was given the participation to the Superfinal as prize for the domestic victory.
Besides the National Champions, also a big number of drivers racing in their respective national championships are coming for the race, from Asia to USA, without forgetting the European and of course the Italian drivers.
During the years, the Rok event has been accepted by young drivers, nowadays become top drivers, such as the KZ World Champion, Patrik Hajek. Unforgettable the presence of drivers in the elite of F1 today such as Lance Stroll. While a successful driver such as Rubens Barrichello wanted to face the strict selection imposed by the Superfinal more than once, racing in the 2016, 2017 and 2018 editions.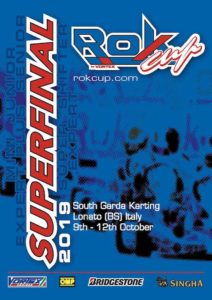 Fantastic prizes. Such an important event deserves the right  money prize. Vortex has always offered exceptional prizes and, once again, it is doing the same in this edition too.
With a  money prize of more than € 50,000 the Superfinal assigns engines to the champions and technical equipment to all the best drivers in each category. Another fantastic prize for the champions is the possibility of competing in one of the two international events offered by the Rok Cup: the Rok The Rio in Las Vegas (USA), or the Rok Asia Final 2019 in Singapore.
Media and tv. Qualified journalists are coming from all over the world to personally attend the Superfinal and every moment of the event is mediatically covered thanks to the Rok Global official social media (Instagram, Facebook and You Tube). Thanks to the official Rok Cup Superfinal app, it will be possible to follow the highlights of the Rok week at the South Garda, while the competition will culminates with the live streaming on Saturday
Rok Party. The competitive spirit on the track fades at the end of the event, on Saturday afternoon (12th October) with the party taking place at the large hospitality tent in the paddock. During this pleasant moment of celebration, all the protagonists of the Superfinal are celebrated with the exciting awards ceremony.