The intense program of the third and fourth round of WSK Super Master Series is underway at the Adria Karting Raceway and has already ran qualifying of round three –  that will reach its conclusion on Saturday July 4th –  on Tuesday and Wednesday. The event will continue on Thursday and Friday with qualifying of round four that will end on Sunday, July 5th when the finals will name the winners of the KZ2, OK, OKJ and MINI titles.
Everyone is back on track for the start to the fourth round and in the occasion some further drivers joined too, making the number of verified drivers go from 182 up to 186. Among these, the Italian Fabian Federer and the Croatian Kristijan Habulin in KZ2.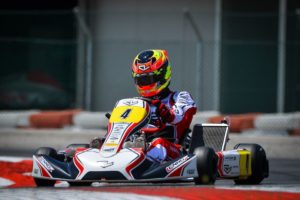 GUSTAFFSON AGAIN IN KZ2. Category KZ2 saw another driver coming to the fore after shining yesterday in the heats valid for round three: the Italian Danilo Albanese (KR Motorsport/KR-Iame-Vega) was on top in the first qualifying session in 47.855s. The second session saw again – as in Round 3 – the Swede Viktor Gustafsson (Leclerc by Lennox Racing/BirelArt-TM Racing-Vega) going quickest in 47.780s.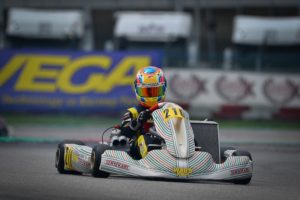 ONE-TWO FOR BEDRIN IN OK. The Russian Nikita Bedrin (Ward Racing/Tony Kart-Vortex-Bridgestone) posted the quickest time in the first qualifying session of OK in 47.851s. He has been again the fastest after setting the pace in qualifying of Round 3. The second session saw the Brazilian Rafa Camara (Forza Racing/ExpritTM Racing-Bridgestone) topping the charts with a best lap of 48.011s.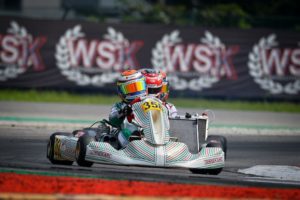 PASIEWICZ ON POLE IN OKJ. The first qualifying session of OKJ was led by the American Ugo Ugochukwu (KR Motorsport/KR-Iame-Vega) in 49.158s, but the fastest time of the second series – 49.093s – earned the pole position to the Pole Karol Pasiewicz (Tony Kart Racing Team/Tony Kart-Vortex-Vega).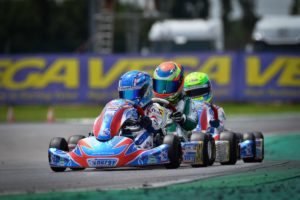 MATVEEV VERY QUICK IN MINI. Three sessions were run in MINI. In the first the Russian Dmitry Matveev (Energy Corse/Energy-TM Racing-Vega) was the quickest in 54.658s, the French Clement Outran (Team Driver Racing Kart/KR-Iame-Vega) topped the second session in 54.778s, while the other Team Driver's racer Tiziano Monza had the upper hand in the closing stages of the third session in 54.668s. The overall quickest time was set by Matveev though.
Complete results are available at www.wskarting.it.
The program will continue on Thursday afternoon with the initial heats of Round 4.
THE PROGRAM:
Thursday, July 2nd: Warm-up Rd.4, Qualifying Rd.4, Heats Rd.4;
Friday, July 3rd: Warm-up Rd.4, Heats Rd.4;
Saturday, July 4th (in Live Streaming): Warm-up Rd.3, Prefinals Rd.3 at local 11:50 Finals Rd.3, Prize Ceremony from 14:30.
Sunday, July 5th (in Live Streaming): Warm-up Rd.4, Prefinals Rd.4 at local 11:50 Finals Rd.4, Prize Ceremony of the race and Championship from 14:30.
For more information please visit WSK Promotion official website