The CV Performance driver has written another record-mark in the books of karting history. The Italian won the Final at Alahärmä (Finland) to become a back-to-back FIA Karting World Champion. Kart Republic set a one-two with the Rosberg Racing driver Taylor Barnard finishing second, while Red Bull Junior, Harry Thompson (Ricky Flynn Motorsport) completed the podium.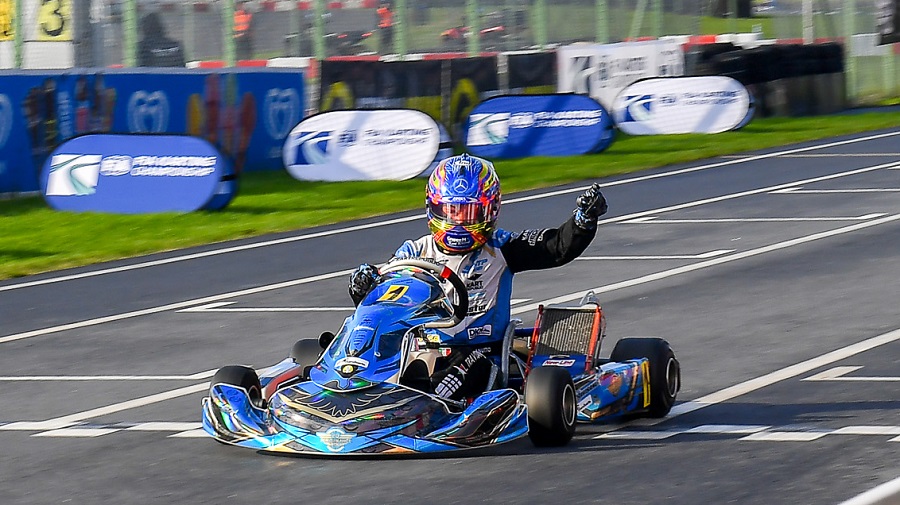 The day started with an amazing battle between Taylor Barnard (KR/Iame/LeCont) and Gabriele Minì (Parolin/TM Racing/LeCont) in qualifying heat A-C that finished with the British taking first the checker-flag.
The other qualifying heats victories finished into the hands of Joe Turney (Tony Kart/Vortex/LeCont), Olin Vieira (CRG/Iame/LeCont) and local hero, Juho Valtanen (Redspeed/Iame/LeCont) who secured pole position for the final.
In the final, Valtanen played his role as favorite and started keeping the lead and increasing the gap over the second classified which was Lorenzo Travisanutto (KR/Iame/LeCont). Meanwhile, Dilano Vant'Hoff (Exprit/TM Racing/LeCont) and Gabriel Bortoleto (CRG/Iame/LeCont) crashed out - due to the water on the last part of the track - when they were in the first spots.
But Travisanutto, who won the World Championship last year, was leading a group of drivers that caught Valtanen to battle for the lead. Travisanutto was followed by Barnard, Kirill Smal (Tony Kart/Vortex/LeCont), Ward Racing driver, and Harry Thompson (FA Kart/Vortex/LeCont), Ricky Flynn Motorsport driver, who started from 15th.
On lap 11, Travisanutto finally overtook Valtanen who remained just behind the Italian trying to look for an opportunity to retake the lead. But when It looked that Valtanen had a good chance to overtake Travisanutto, Taylor Barnard overtook the Finn with four laps remaining. In the move, Thompson also managed to overtake the local driver for third place. Then Smal did the same to the Finn who finally finished in fifth place.
At the checker-flag, Lorenzo Travisanutto crossed the finish-line once again in first place like he did one year ago, keeping the title of FIA Karting World Champion. Barnard finished third, while Thompson completed the podium after a difficult season.
[embed] https://youtu.be/1s2toyrriro [/embed]
[embed] https://youtu.be/Pzvk-fTAGCU [/embed]
[embed] https://youtu.be/qUKw6DwvD-Q [/embed]
[embed] https://youtu.be/qeoROcij5Gw [/embed]
[embed] https://youtu.be/tOTZizecbyM [/embed]
[embed] https://youtu.be/6CombizKIX8 [/embed]
[embed] https://youtu.be/rIlX3ibAKKs [/embed]
[embed] https://youtu.be/Mh1GV9vPCpo [/embed]
PH: Sportinphoto