The consistency in the top places and a very good weekend in France has gave to Lorenzo Travisanutto the 2019 WSK Euro Series championship of the OK class. The last round of the championship held at Adria Karting Raceway confirmed his dominance in this category. Gabriele Mini dominated prefinal and Final, while Dino Beganovic became Italian champion.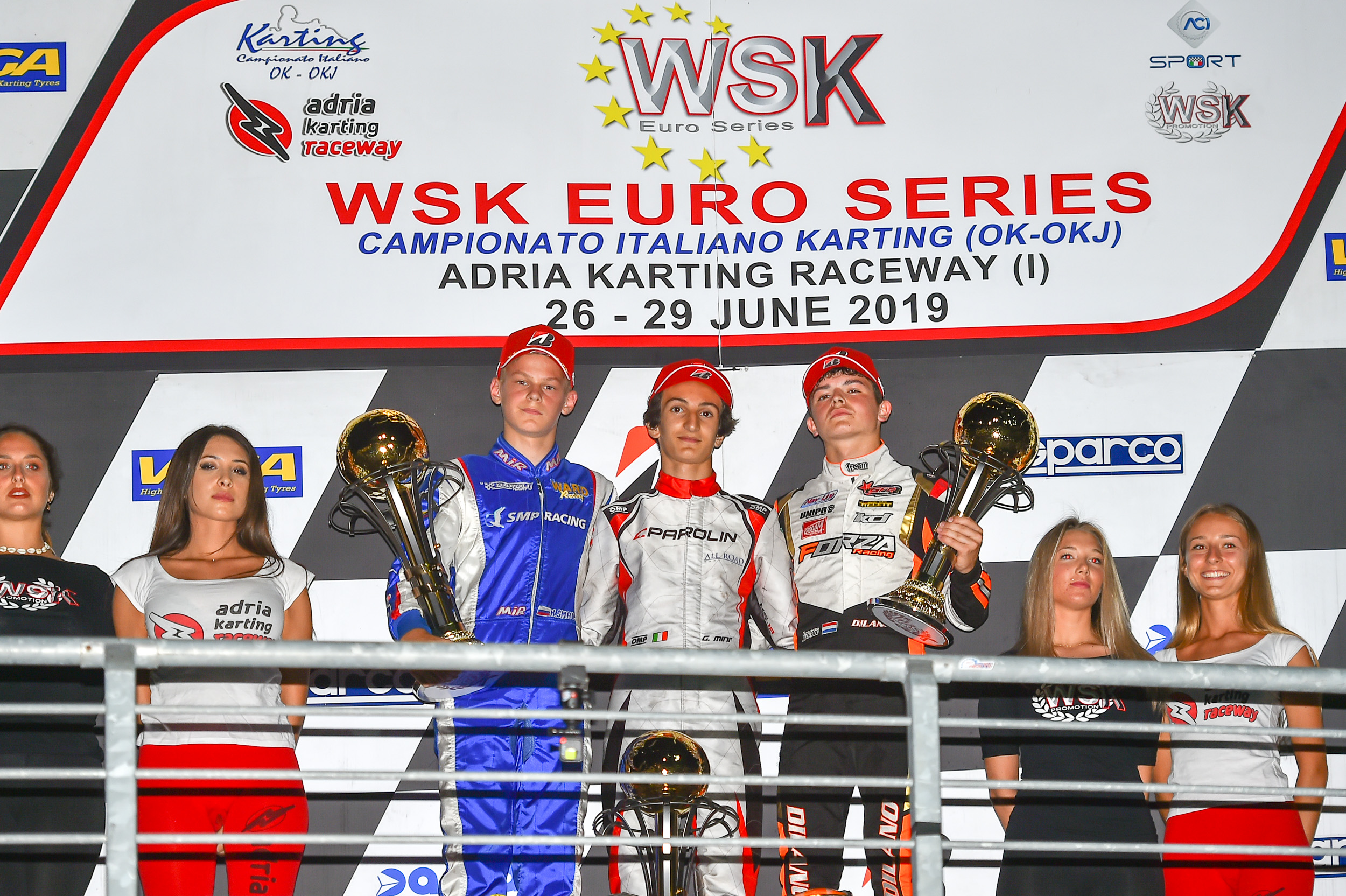 On Friday for qualifying heats it was Kirill Smal (Tony Kart/Vortex/Bridg) who dominated over Gabriele Minì (Parolin/TM Racing/Bridg) but today things changed up.
The Italian dominated the prefinal over the Russian driver of Ward Racing. A prefinal where the championship contenders made their comebacks with Lorenzo Travisanutto (KR/Iame/Bridg) been the best finishing in third place, while Dino Beganovic (Tony Kart/Vortex/Bridg) showed strong to comeback and finish in 5th position. Meanwhile Dexter Patterson (KR/Iame/Bridg) who dominated in the last round at Lonato, He has been struggling all weekend long and a retirement in the prefinal put him out of title contention.
The final had a clear start but once again, Gabriele Mini immediately pull away from Kirill Smal. Both secured first and second position while the big battle was for the last step of the podium.
Travisanutto was the one who was in that position, but the Italian could not keep the pressure from Dilano Van T'Hoff (Exprit/TM Racing/Bridg) who finally finished third. But this did not affect much to Travisanutto as his championship rival, Dino Beganovic was also struggling for pace and finally finished in eight position. Patterson despite having a great comeback, had to retire due to a contact with the American Jace Gessel (Tony Kart/Vortex/Bridg).
So Mini won the final ahead of Smal and Van T'Hoff. But it was Lorenzo Travisanutto who took the 2019 WSK Euro Series title in the OK class. Beganovic finished as the runner-up while Dexter Patterson finished third only two points ahead of Minì who would possible have been one of the championship contenders if he was not impeded to race the final in Lonato.
In the Italian championship, Dino Beganovic thanks to his victory in Sarno and his consistency won the championship over Travisanutto and Minì.
Adria Final Results
Championship Results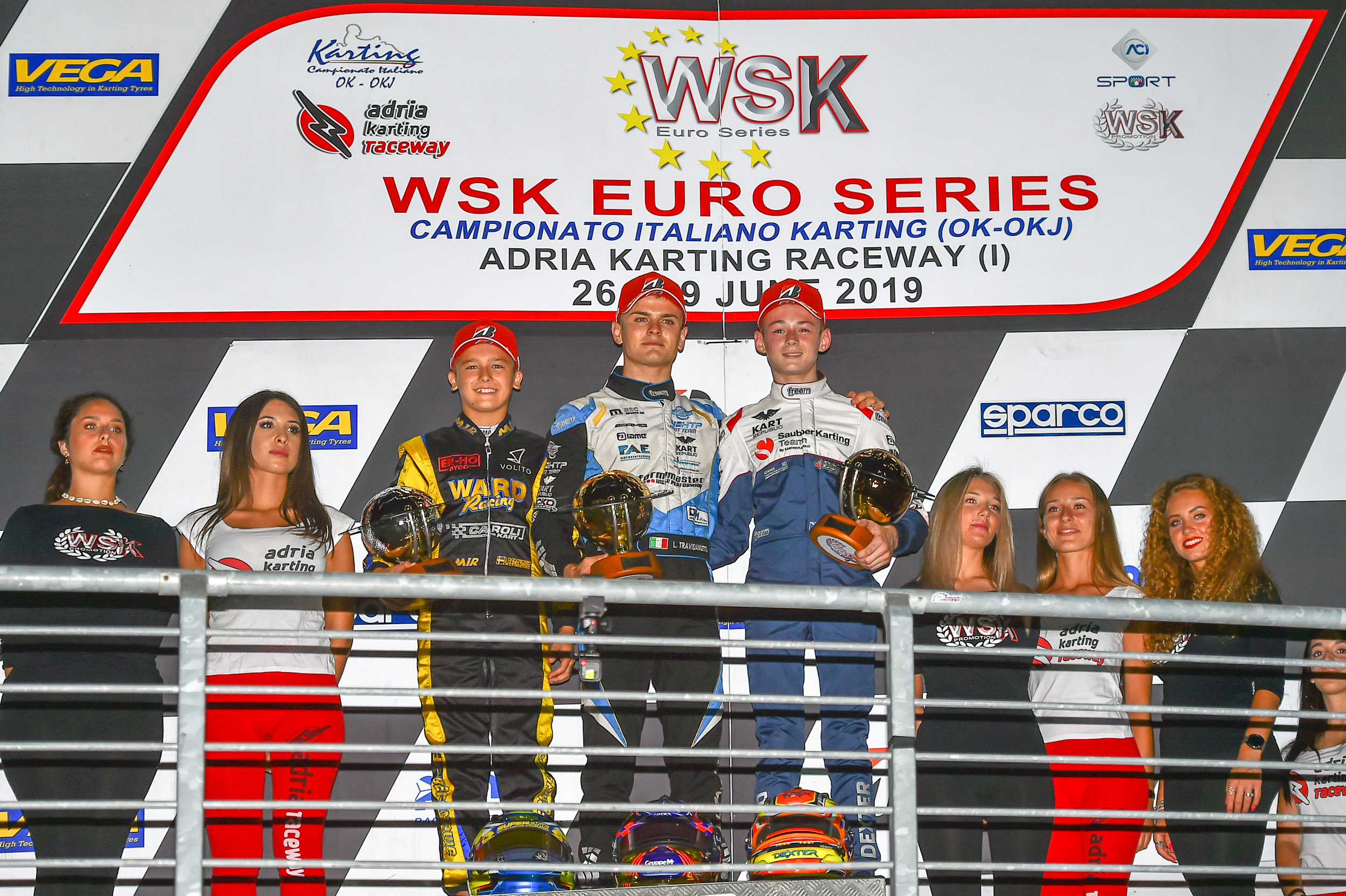 [embed] https://youtu.be/07ivEe7rrt0 [/embed]
[embed] https://youtu.be/eoB3Fri5vYM [/embed]
[embed] https://youtu.be/PBMlDEotsSo [/embed]
[embed] https://youtu.be/w7Fq0arcbEc [/embed]
[embed] https://youtu.be/hNH63Lmvgeg [/embed]
PH: Sportinphoto