[Translated with Google]
Tires: Vega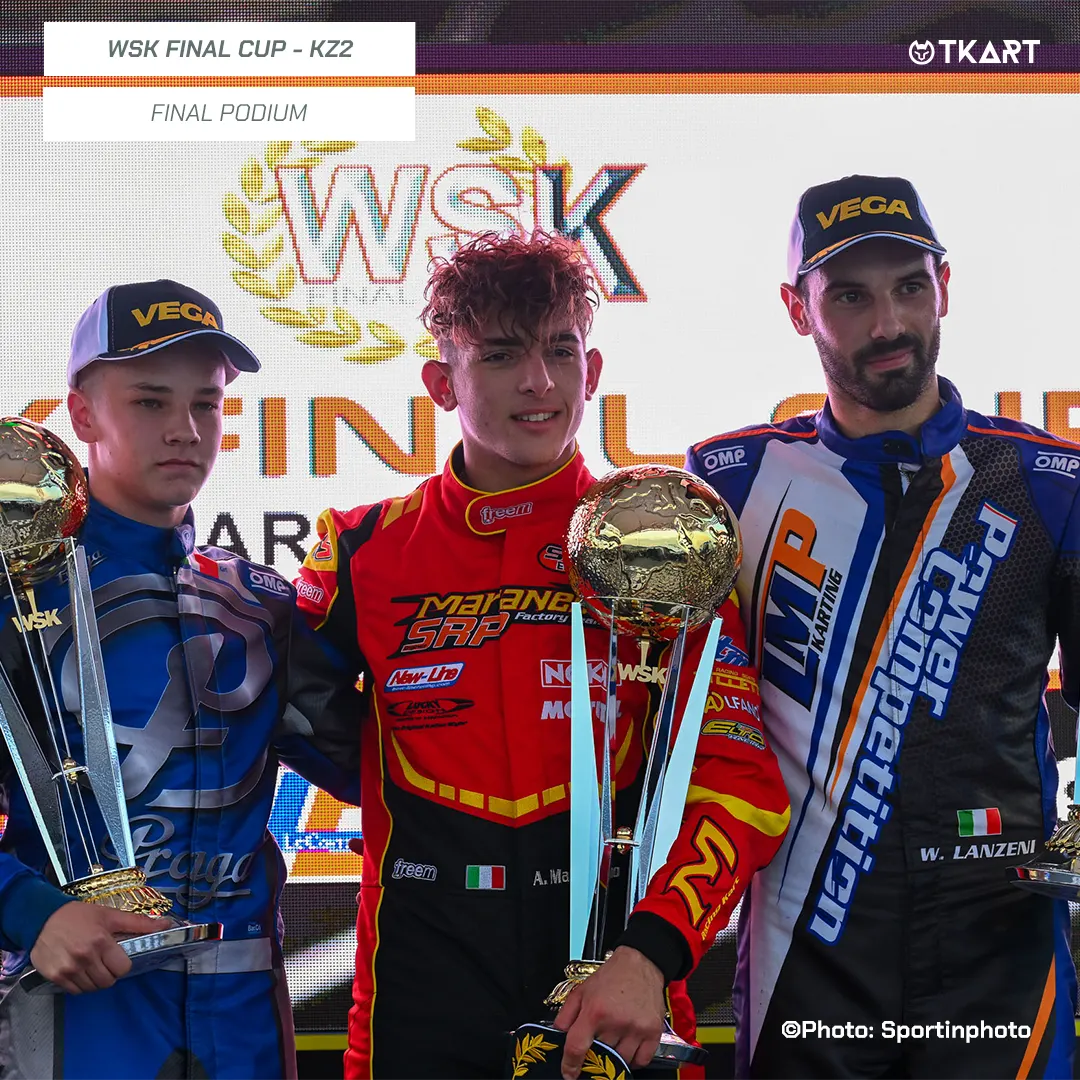 In pre-final A he seemed to have lost the shine of the previous days, while Alex Maragliano (Maranello SRP Factory Team - Maranello - TM Racing) proves himself in the final. The Italian driver starts perfectly when the traffic lights go out and takes advantage of the brawl behind him in the first laps to escape alone to victory. This is the first success in a WSK Promotion event for the Maranello SRP Factory Team rider.


At just 15 years old, Marek Skrivan (Sumako IPK Racing - IPK - TM Racing) impresses with the great maturity shown in the race. The Czech driver, like Maragliano, avoids the numerous battles of the first laps and maintains the second position until the checkered flag.


Instead, William Lanzeni (William Lanzeni - EKS - TM Racing) sweats to the last to get the lowest step of the podium. The Italian engages in a good duel with Giuseppe Palomba (Birel Art Racing - Birel Art - TM Racing) and, on the penultimate lap, lands the winning stroke that earns him the third position.


Palomba defends with tooth and nail the fourth position on the last lap from Daniel Vasile (DR - DR - Modena Engine) and succeeds in the intent. However, the Italian receives a 5-second penalty for the fairing in the incorrect position and retreats to ninth position, leaving fourth position in the hands of Vasile.


Even Senna Van Walstijn (Sodikart - Sodikart - TM Racing), after finishing sixth, runs into a 5 second penalty for the same reason as Palomba. The Dutchman thus passes to 11th position, but still enough for him to be crowned champion. Also contributing to the seventh position of Noah Milell (Tony Kart Racing Team - Tony Kart - Vortex), who was involved for a long time in the numerous initial fights.


The retirement in pre-final B compromised any chance of Emilien Denner (Sodikart - Sodikart - TM Racing) to fight for the title. The Frenchman does not mind this and, instead, goes up 12 positions in the final and hits the fifth position. Positive race also by Matteo Viganò (Leclerc by Lennox Racing - Birel Art - TM Racing), sixth classified.


Also noteworthy are the 11-position comebacks of Daniel Stell (Dorr Motorsport - KR - IAME), eighth, and Alessio Piccini (Birel Art Racing KSW - Birel Art - TM Racing), tenth. Thomas Imbourg (CPB Sport - Sodikart - TM Racing) and Slavik Putiatin (LA Motorsport - Intrepid - TM Racing) lost several positions, 12th and 13th respectively. The reigning European KZ2 champion Tom Leuillet (Tony Kart Racing Team - Tony Kart - Vortex) closes the weekend 14th.


Unfortunate retirement for Cristian Bertuca (Birel Art Racing - Birel Art - TM Racing), one of the protagonists of the second round. The Italian appears on the starting grid in pole position, but does not have a great starting point. On lap 15, a technical problem puts an end to his race.


Results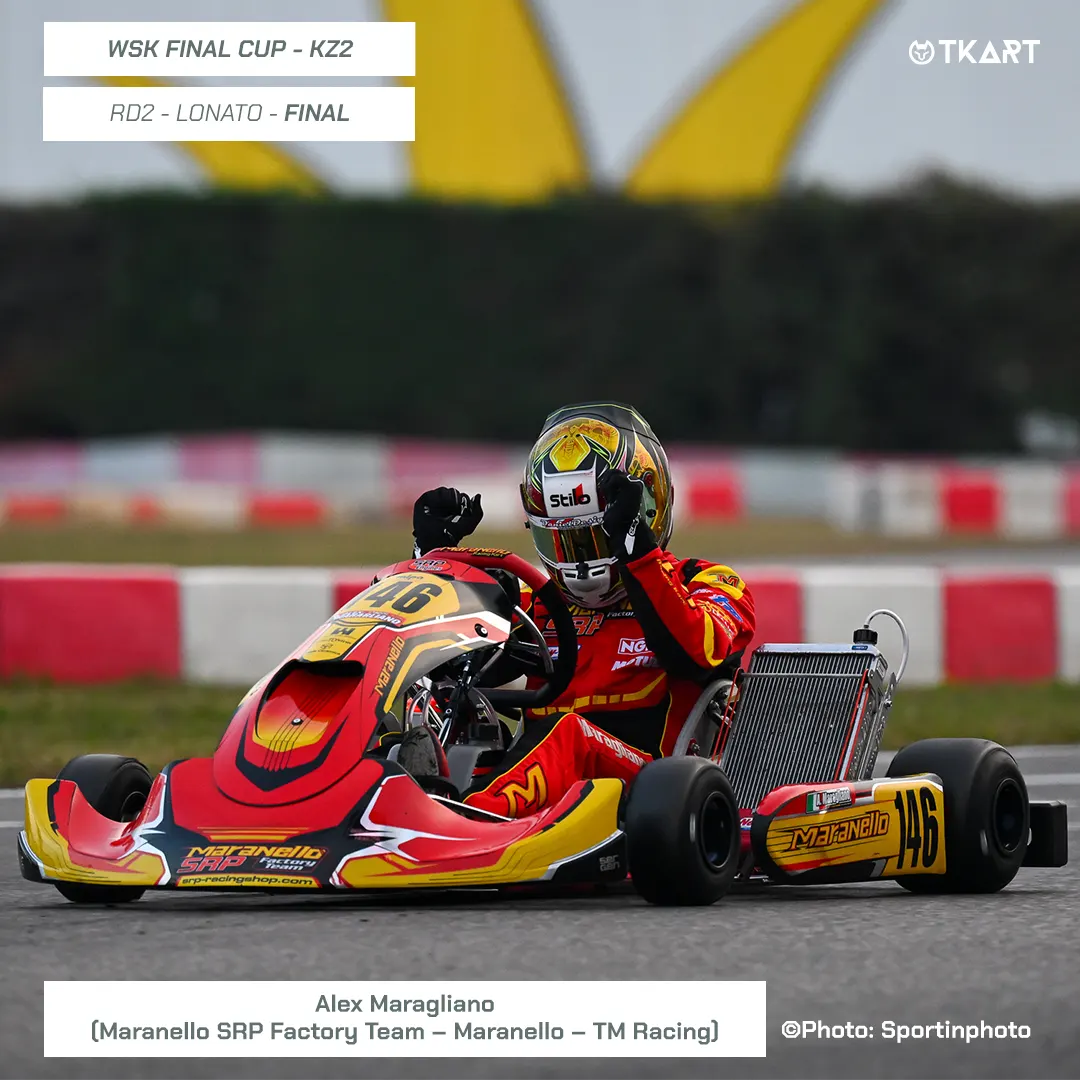 ©Photo: Sportinphoto